Hot-Melt Adhesive shows how much has been applied.
Press Release Summary: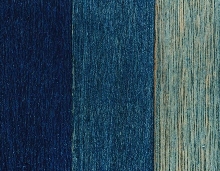 PUR-FECT LOK(R) 34-969A polyurethane, reactive adhesive allows user to see if application device is dispensing correct amount based on shade of blue. Lighter shade indicates bond strength may not be sufficient and darker shade represents too much adhesive. Moisture-cured, 100% solids adhesive offers immediate handling strength and deflection resistance. Applications include assembly bonding, panel bonding and vinyl laminating.
---
Original Press Release:
New Adhesive Shows How Much Has Been Applied

BRIDGEWATER, NJ-A new, polyurethane, reactive, hot melt adhesive has been formulated that shows how much has been applied through the royal blue color lightness or darkness. "A manufacturing line operator can see if the application device is dispensing the optimum amount of adhesive by comparing the shade of blue with the ideal shade. It is based on the amount required to create the desired bond strength. A lighter shade would indicate that the bond strength might not be sufficient; a darker shade would represent the application of too much adhesive, showing that production cost is higher than necessary," explained Dan Stauffer, marketing manager, Bondmaster Adhesives, National Starch and Chemical Company.

Designated PUR-FECT LOK(R) 34-969A adhesive, the product is a 100% solids, moisture-curing hot melt adhesive designed for immediate handling strength, fast setting speed and good deflection resistance. This adhesive provides full bond strength in hours and was designed for assembly bonding, panel bonding and vinyl laminating.

Manufacturers can apply this product by roll coater or slot coater adapted for reactive hot melt adhesives at an adhesive temperature of 250 degrees F.

Data on physical characteristics and precautions are available from the manufacturer.

For more information on PUR-FECT LOK 34-969A adhesive, contact National Starch and Chemical Information Center, One Matrix Drive, Monroe, NJ 08831. Call 1-800-797-4992. Fax 1-609-409-5699. E-mail: nscinquiry@salessupport.com

National Starch and Chemical Company, a member of the ICI Group, headquartered in Bridgewater, NJ, is a worldwide manufacturer of adhesives, specialty polymers, electronic and engineering materials, natural polymers and advanced ingredients, with sales of $2.8 billion.

Note to editor: For more data about National Starch and Chemical Company and its other products, enter www.nationalstarch.com while in your browser. You also are welcome to visit our on-line newsroom by clicking on the Newsroom button.

More from Controls & Controllers