Hot-Fill Glass Jar Inversion Conveyor with Missing Cap Reject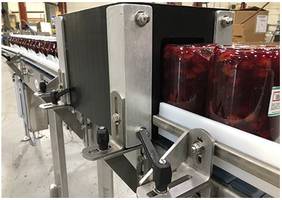 … Increases production up to 40% for a farm market manufacturer.
Multi-Conveyor (Winneconne, WI) - Multi-Conveyor recently built a system to replace a manual hot-fill-jar-inversion process while providing optimum cooling time after the capper for a multiple product and jar sizes canning line at a renowned family-owned produce manufacturer in northern Wisconsin.
Single-lane filled glass jars exit an existing capper in upright orientation, then side transfer at the Multi-Conveyor infeed conveyor. The product conveys to a non-powered jar inverter and travels approximately 30-seconds upside-down, prior to entering a second non-powered jar inverter. The jars then side transfer to an existing conveyor in an upright position.
The conveyor length was critical for cooling of the up-to-200°F product, both before and after the 90° side-flexing curve, and prior to the final inversion. Jars then proceed to an existing labeler and staging system where product is manually removed and ultimately case packed.
This line produces jams, salsas, pie fillings and other products. Multi-Conveyor added dual belt drive assemblies prior to the first inverter, ensuring accurate inversion of larger, heavier jars.
A missing and cocked-cap reject prior to the first invert that included sensors, logic and reject completed the system.
Regarding increased production and ease of changeovers the customer explained, "On average we can produce 20-40% more per day. The new equipment with additional line space also gives the flexibility to allow the filling line to continue running a bit longer than before. Last year we handled about 350 cases (4200 jars) per day and now are averaging about 500 cases (6000 jars)".
Learn more about product orientation, inversion conveyance by visiting our website at https://www.multi-conveyor.com.
About Multi-Conveyor
Multi-Conveyor is a leading manufacturer of standard and custom conveyor solutions for End-Users, Integrators, Engineering firms, Automation/Robotics, AI, OEM's and Contract
Packagers across multiple markets. Our products are multiple and unique. No single conveyor product defines Multi-Conveyor. We specialize in conveyor systems for packaging or material handling for nearly every industry, product, shape and size. Our customers report they select Multi-Conveyor for concept/design, engineering skills, quality product, best value and prompt delivery.
Multi-Conveyor excels in sanitary, easy to maintain, clean-in-place or "no tools required" belt changeover systems for nearly any industry. We direct manufacture stainless steel and mild steel construction conveyors for table top chains, modular plastic belts, fabric belting and now custom MDR. Our in-house electrical and engineering departments execute the controls, panels, devices, PLCs, VFDs, HMIs, safety, inspection and sensors needed to integrate our systems with multiple packaging platforms. Quick ship plastic chain and low-profile, small transfer, pre-engineered sanitary and non-sanitary belt systems are available for quick delivery.
Contact Info For Publication:
Multi-Conveyor LLC
P O Box 10
Winneconne, WI 54986
+1-800-236-7960
info@multi-conv.com
www.multi-conveyor.com
PR Contact Non-Publication:
cmiller@multi-conv.com
More from Material Handling & Storage