Horticulture LED Lighting Modules are IP65+ rated.
Press Release Summary: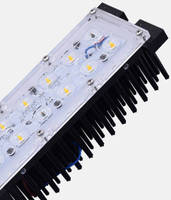 Horticulture LED Lighting Modules feature SinkPAD™-II printed circuit board technology. Units are embedded with graphite thermal interface and come in modular design. Products feature aluminum or copper substrate and offer voltage of 34-37 V and current of 1000 mA. Providing CRI of 83 and lumen flux of 3811 lumen, lighting modules feature lumen efficacy of 115.9 LPW.
---
Original Press Release:
1950-GLA Horticulture LED Lighting Modules
The ADURA LED Solutions Horticultural Lighting Modules combine the most advanced LED technology(outlined in CREE's Horticulture Reference Design) with SinkPAD™-II, a second generation Printed Circuit Board technology with the primary focus of solving the thermal demands of high power horticultural lighting. SinkPAD™-II PCBs featuring CREE LEDs deliver lower junction temperatures of high power LEDs by utilizing a Direct Thermal Path to the heatsink, allowing the implementation of passive cooling, negating the need for a fan. Increased LED life, higher Light output, product reliability and even a reduction in cost of operation result from maintaining lower junction temperatures.
High Efficiency Grow Light Modules
SinkPADTM II MCPCB Technology
Effective use of LED System design to enable passive cooling
Latest high efficiency LEDs from CREE and other top tier LED manufacturers
High quality Aluminum or Copper substrate made with SinkPADTM II MCPCB Technology
Compatible with High efficiency Optics from LEDIL with various beam angle options
IP65+ rated
Graphite Thermal Interface for higher reliability and consistent Thermal performance
High quality, manufacturing in California
Modular design
PRODUCT SPECIFICATION
                               Parameter                                        Value                             Unit
                                 Voltage                                           34-37                               V
                                 Curren (IF)                                     1000                               mA
                              Total Power (W) 29.62                        33                                 watt
                  Correlated Color Temperature (CCT)           3602                                 K
                                   CRI                                                 83                                   -
                                     R9                                               82.5                                  -
                  Photosynthetic Photon Flux -PPF                 54.06                           (µmol/s)
                           Lumen Flux                                          3811                              lumen
                         Lumen Efficacy                                      115.9                              LPW
More from Fluid & Gas Flow Equipment