Home Theater Scaler optimizes HD images.
Press Release Summary: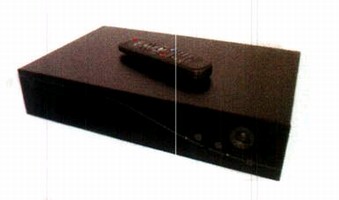 Vantage-HD(TM) image scaler and switcher combines power of Silicon Optix Realta HQV(TM) and Teranex algorithms to bring image quality to video projection and HDTV systems. It features 1 Teraflop DSP with 30-bit 4:4:4 scaler datapath, 12-bit component video A/Ds, and 10-bit video decoder with super-additive comb filter and 4 x ITU656 oversampling. De-interlacing of both SD and HD images is per-pixel, multi-angle, aperture-adjusted, and motion-compensated.
---
Original Press Release:


Home Theater Scaler Improves HD Images




Pittsford, NY. Vantage-HD(TM) is an extremely fast image-scaler and switcher that will instantly give home theater equipment an image-makeover. Vantage-HD(TM) harnesses the power of Silicon Optix' Realta HQV(TM) chipset and Teranex algorithms to bring greatly-improved image quality to video projection and HDTV systems.

Few people realize when they buy an HDTV system that most programming is still being delivered as Standard Definition. Even true HDTV transmissions, Blu-Ray and HD-DVD sources are often still interlaced or have significant noise and compression artifacts. To make matters worse, in order to fill a high-resolution HDTV screen, the Standard Definition image has to be enlarged - but then all the flaws in the original image are magnified too. This is why so many home theater viewers find that their new projector, plasma or LCD TV doesn't provide the anticipated increase in image quality - and may even appear more noisy or less clear than their old SD system. Vantage-HD(TM) gets to the very heart of this problem, spectacularly improving inherent noise and grayscale irregularities in plasma displays, for instance, with specific clean-up algorithms. For projection displays, Vantage-HD(TM) has the sharpest, most flexible keystone correction available, with optional full image warping.

The video processing capabilities of most home theater displays and progressive-scan DVD players offer only basic algorithm-processing - none matching the unrivalled power of Vantage-HD(TM)'s awesome 1 Teraflop DSP with 30-bit 4:4:4 scaler datapath, 12-bit component video A/Ds and studio-quality 10-bit video decoder with super-additive comb filter and 4 x ITU656 oversampling.

Vantage-HD(TM) includes per-pixel multi-angle aperture-adjusted motion-compensated de-interlacing of both SD and HD images, with full de-interlace performance on 1080i formats as well as 480i and 576i, outperforming all competitor algorithms and providing a level of de-interlacing quality previously found only in high-end studio facilities. Vantage-HD(TM) also expertly processes film-based material with full automatic detection of all pull-down cadences including broken cadences and non-standard cadences typically found in animation sequences, as well as the common 3:2 and 2:2 formats, all with automatic scene change detection to insure clean cuts between scenes and the ability to process mixed film/video sequences.

Lip-sync errors significantly degrade the home theater experience. Vantage-HD(TM) automatically adjusts the audio time-line to suit its internal video processing delay. Audio time-line correction operates on all audio channels - digital coaxial, digital fiber-optic, analog and HDMI audio channels. It's easy to appreciate - and SEE - that Vantage-HD(TM) is far more than just another sealer!

For DVD and digital cable/satellite users, Vantage-HD(TM) provides realtime MPEG artifact reduction while leaving picture detail intact. Conventional external sealers don't fix all picture defects - even those products considered benchmarks in home theater cannot reduce MPEG noise and cannot run their full de-interlace algorithms on HD signals due to a lack of real-time processing power. Vantage-HD(TM) with its extremely powerful DSP overcomes all of these limitations.

Vantage-HD(TM) is available now from Saelig Co. Inc. at only $2900.
Hi-Res Image: calibreuk.com/downlaods/vantage-pic2.tif Direct URL: http://www.saelig.com/pr/vantage.htm

More: Alan Lowne, 585 385-1750 fax-1768 Saelig Co. Inc, 1160-D2 Pittsford-Victor Rd. Pittsford, NY 14534 USA. info@saelig.com


More from Fluid & Gas Flow Equipment