HMS Adds Support for SERCOS III into Anybus Technology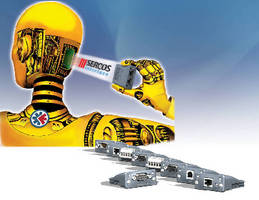 The new Anybus-CC module for SERCOS III provides a fast and easy way to connect automation devices to SERCOS III

Nuremberg, Germany, November, 24, 2009. HMS Industrial Networks recently became a member of SERCOS International and announces today its full commitment by adding a SERCOS III version into the family of interchangeable Anybus communication modules. HMS already supports 18 different fieldbusses and 4 different industrial Ethernet technologies. SERCOS III is the latest contribution to the ever growing family of interchangeable Anybus communication modules.

"We have some 500 automation device manufactures world-wide that standardized on our Anybus technology for industrial communication. All these vendors now also have easy access to the SERCOS III technology for their products" says Michael Volz, Marketing Director of HMS. "We recognize the growing interest for SERCOS among European machine builders, and for us it is important to provide our customers with a solution for instant SERCOS III connectivity".

The new Anybus-CC module for SERCOS III has been developed in co-operation with Bosch Rexroth and contains a complete SERCOS III slave interface according to the FSP IO profile. The module comes in a handy housing and is about the size of a compact flash card. The core of the module is HMS´s NP30 microprocessor. The new Anybus-CC module provides device manufacturers with a fast and easy way to connect their automation devices to SERCOS III. The ready-made solution reduces development efforts by up to 70%, speeds up the time-to-market and minimizes the development risk. As the hardware and software application interface of the Anybus-CC module for SERCOS III functions in the same manner as all other Anybus-CC modules, the new module is fully interchangeable with all other active Anybus-CC modules. This allows device manufacturers to connect their automation devices without any additional development efforts to 18 different industrial networks.

SERCOS III is an open real-time Ethernet network characterized by outstanding performance and simple wiring. SERCOS III combines transmission of industrial IT protocols and isochronous Real time communication over a single wire. With its set of device profiles, SERCOS fulfills the communication needs of complex machines, where exact synchronization of multiple drives along with simple IO data transfer and industrial IT functions is required.

"Having HMS join SERCOS International and adding SERCOS support into their product range is yet another sign of the industry acceptance of SERCOS III. The fact that HMS offers an instant way for vendors to enable their products for SERCOS III, will further accelerate the number of companies and devices supporting SERCOS III." says Peter Lutz, Executive Director of SERCOS International.

Press contact HMS

HMS Industrial Networks Inc

Sarah Hardman

900 W Jackson Blvd Suite 2W

Chicago IL 60607

USA

Tel: +1 (312) 829-0601

E-mail: sarah.hardman@hms-networks.com

www.anybus.com

SERCOS Technology Group is an international user and vendor organization in which key user companies from various industries and leading automation suppliers join forces to support, promote and advance the SERCOS technology.

HMS Industrial Networks is a leading supplier of communication technology for automation devices. HMS develops and manufactures solutions for interfacing automation devices to industrial networks. Development and manufacturing takes place at the head office in Halmstad, Sweden. Local sales and support is provided by the HMS branch offices in Chicago, Beijing, Karlsruhe, Milan, Mulhouse and Tokyo. HMS employs over 150 people and reported sales of 33 million in 2008. HMS is listed on the NASDAQ OMX Nordic Exchange in Stockholm with ISIN SE0002136242.

More from Software