Industrial / Specific Purpose Computers
HMIs, Touch Panel PCs target Industry 4.0 nd IoT applications.
Press Release Summary: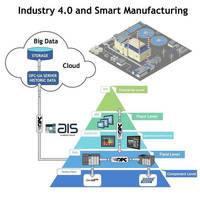 PC-based HMIs and Industrialized Touch Panel PCs come pre-installed with Windows® OS for open platform communications (OPC) for process, industrial manufacturing control, monitoring and automation applications. Open architecture platform and design, which allow OPC UA compatibility with Web, PLC, HMI, SCADA, and MES applications, also ensure network security. Both HMIs and PCs come in Premium, Standard, and Compact Series with range of processors and screen sizes.
---
Original Press Release:

AIS's PC Based Human Machine Interfaces Integrated with Open Platform Communications Unified Architecture for Industry 4.0 and Internet of Things Applications



AIS's Industrial HMI Panel PCs Pre-installed with a Microsoft Windows Operating System for Use in Process Control and Manufacturing Automation Applications



IRVINE, CALIFORNIA – American Industrial Systems, Inc. (AIS) an innovator, designer and manufacturer of Human Machine Interface (HMI) Touch Panels, Operator Interface Terminals, Industrial Box PCs, Web Thin Clients, and Industrial Monitors now offer PC-based HMIs and Industrialized Touch Panel PCs that come pre-installed and ready-to-go with Microsoft Windows operating system for open platform communications (OPC) for process, industrial manufacturing control, monitoring and automation applications.



OPC Unified Architecture (OPC UA) is an industrial M2M communication protocol for interoperability developed by the OPC Foundation. The OPC Specification is based on the OLE, COM, and DCOM technologies developed by Microsoft for the Microsoft Windows operating system family. The specification defined a standard set of objects, interfaces and methods for use in process control and manufacturing automation applications to facilitate interoperability. The most common OPC specification is OPC Data Access, which is used to read and write real-time data.



With OPC UA compatibility, AIS's Smart PC- Based Touchscreen Interfaces, which includes their Premium, Standard and Compact Series of HMI touch panels, are engineered to provide a common bridge for Windows-based software applications and process control applications. In addition, AIS's Premium, Standard and Compact Series of Intelligent Touch Panel PCs with OPC UA compatibility provide users consistent methods of accessing field data from plant floor devices. End users can more efficiently manage and operate their HMI, SCADA and plant floor operations with AIS's comprehensive family of rugged, industrial and open HMI touchscreen interfaces.



AIS's PC Based Human Machine Interfaces Pre-Configured, Open and Standardized Interfaces in Hardware and Software for Industry 4.0 and Internet of Things Applications



AIS's Industrial PC-Based HMIs feature an open architecture platform and design with allows OPC UA compatibility with Web, PLC, HMI, SCADA and MES applications.  AIS's open platform design also ensures network security and enables users to leverage new TCOP/IPC-based Networking., HTML 5 Web Browsers, Web-enable HMI/SCADA, Industrial Automation, Field Mobility, M2M, Industrial 4.0 and IoT applications.



Their advanced family of Premium, Standard and Compact HMI touchscreen interfaces are available with both analog resistive single-touch and projected capacitive multi-touch displays ranging from 7.0" to 24.0" screen sizes. AIS's PC-Based Touch Panel PCs are rugged and UL/cUL/B 61010 and 62368 certified for automation, information and communications applications and offer maintenance-free operation in industrial and/or commercial environments.



AIS's Industrial Panel PCs with an open architecture design, utilizing Microsoft operating systems and OPC UA provide a flexible system that reduces the programming duplication needed for proprietary systems. An OPC Server for one hardware device provides the same methods for an OPC Client to access its data as any and every other OPC Server for that same and any other hardware device. OPC servers provide a method for many different software packages (so long as it is an OPC Client) to access data from a process control device, such as a PLC or DCS.



AIS's Premium HMI Touch Panels Powered by the Intel® Core™ i7-4650U Processors Designed for the Most Demanding Tasks for Control and Monitoring Systems and OPC UA Applications



The Premium HMI Series automation control panels from AIS allows for transfer of data over an Intranet, Internet or WAN with security, ease-of-use and maintainability in Process control and Automation environments. The Premium series is available in displays with both analog resistive single-touch and projected capacitive multi-touch ranging from 15.0" to 24.0" screen sizes

AIS's Standard HMI Touch Panels Powered by the Intel® Atom™ Processor E3845 with Energy Efficient and Cost-Effective Platform for Process Control and SCADA Deployment



AIS's Standard Series of Industrial HMIs and interfaces also support Open Platform Communications (OPC), Message Queuing Telemetry Transport (MQTT) and Representational State Transfer (REST), IoT protocols and web-based software necessary for Industry 4.0 applications. The Standard series is available in a wide range of display sizes from 12.1" to 24.0" models.

AIS's Compact HMI Touch Panels Powered by the Intel® Celeron® Processor N2930 with an Aluminum Die-cast Housing Specifically Designed for Industrial Machinery and Web-based HMI Applications



Sharing the same open platform design and architecture and OPC UA compatibility as the Premium and Standard range of intelligent touch panel interfaces, the Compact HMI Series is suitable for OEM machinery and Web-based HMI applications. They come in touch-screen sizes ranging from 7.0" to 21.5" displays with some models available in both single and multi-touch.



About AIS

Headquartered in Irvine, California, USA, American Industrial Systems, Inc. (AIS) offers in-house electronic and mechanical design, software development, manufacturing, production and quality control services. Offering one of the widest ranges of industrial computing solutions, AIS open platform control and monitoring solutions are available in a multitude of configurations for industrial, building automation, food & beverage, oil & gas, military and marine applications. The company's HMI solutions are key enabling technologies for the Internet of Things (IoT), Industrial Internet of Things, (IIoT), Machine-to-Machine Communications (M2M) and Industry 4.0 applications. AIS is fully committed to empowering, improving and delivering turnkey HMI, control, monitoring and display solutions for OEM, ODM and end-user customers. AIS is an ISO 9001:2008 certified supplier and manufacturer of rugged computers and displays, and received completion of the International Traffic in Arms Regulations (ITAR) registration from the Directorate of Defense Trade Controls (DDTC). For more information, visit: www.aispro.com, email: sales@aispro.com or contact: 1-888-485-6688.



Media Relations Contact:

American Industrial Systems, Inc.

David G. Martorana

Director Marketing & Communications

1.847.630.6487

david.martorana@aispro.com

More from Sensors, Monitors & Transducers