HMI Hardware comes with control software.
Press Release Summary: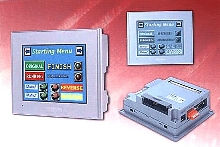 GLC2300T and GLC2300L Graphic Logic Controllers have graphic display, touch panel, distributed I/O, Ethernet interface, 2 serial ports, and CompactFlash card socket for data handling. GP-PRO/PB III C-Package01 software combines HMI editing, ladder logic programming, and ability to get data over Ethernet network and view screens over Web. Applications are downloaded to target GLC unit via serial connection, Ethernet port, or CompactFlash card.
---
Original Press Release:
Xycom Automation Introduces the Pro-Face Brand GLC2300 Graphic Logic Control Series - The Next Generation One-Box HMI and Control Solution

Saline, MI - February 27, 2002 - Xycom Automation, Inc., a subsidiary of Pro-face America, Inc. and a market leader in Industrial PCs, announces the addition of the GLC2300 Series, including the GLC2300T and the GLC2300L, to the Graphic Logic Controller (GLC) family.

These two products offer a unique all-in-one combination of Human Machine Interface (HMI) and I/O control capability. Every GLC has a full graphic display, touch panel, and GLC distributed I/O interface. In addition, GLC2300 Series models are equipped with a built-in Ethernet interface, two serial ports, and a CompactFlash card socket for data handling. This series offers a simultaneous three-way connection with I/O devices, serial and fieldbus equipment, and Ethernet data management networks.

The single software package for the GP/GLC Series, GP-PRO/PB III C-Package01, combines HMI editing and ladder logic programming. This editor is also fully compatible with the widely used GP Series of Pro-face brand operator interfaces. GLCs use IEC61131-3 ladder logic, the most popular industrial control language, for control programming. GP-PRO/PB III C-Package0l is easy to use and has powerful configuration functions. The screen editor and the logic programming are fully integrated with many useful functions including automatic symbol import and drag-and-drop functionality between the HMI and the control program. Completed applications are downloaded or transferred to a target GLC unit via a serial connection, an Ethernet port, or a CompactFlash card.

GLC2300 models are equipped with 5.7" displays, the most compact in the Pro-face Graphic Logic Controller Series. With the addition of the GLC2300 Series to the GLC family, users can choose the most suitable model for their applications from a lineup of 12.1", 7.4", and 5.7" graphic displays.

The GLC2300T is equipped with a 320 x 240 pixel, high-brightness, wide viewing angle, 256-color TFT display. The GLC2300L is equipped with a 320 x 240 pixel, black-and-white monochrome LCD.

The GLC2300 series is designed to enhance data handling on the factory floor. The built-in CompactFlash card socket allows users to access production information such as logged data, recipes, alarm histories, and screen images on a trigger event. It also allows data sharing with PC applications and other devices, and screen data maintenance.

The GLC2300 Series supports hundreds of different controllers, such as PLCs, temperature controllers, and inverters from over 25 makers around the world. The expansion serial port is programmable for serial device connection using the D-Script macro language in the GP-PRO/PB III C-Package0l software.

The Ethernet interface and Pro-Server data collection software, support manufacturing information management and high-speed communication with networked PLCs. Production data from a PLC can be transferred to a data collection server on the network in real-time. Pro-Server supports ADO, DDE, DLL, OPC, and SQL, and eases data connection with commonly used spreadsheets, databases, or the customer's applications. GP-Web operation software can be used to implement remote Internet or intranet monitoring, with optional interaction, for efficient production control and system maintenance.

According to Scott Kortier, Xycom Automation's GP/GLC Product Manager, "The GLC2300 units offer a lot of 'bang for the buck'. This unit is packed with features, such as Ethernet, CompactFlash socket and a combination of HMI and control, all in one box. These units also have a very powerful software suite that allows not only HMI and control programming, but also the ability to get data over an Ethernet network and view screens over the web." The GLC2300 housing body is made of recyclable die-cast aluminum for enhanced cooling. The rear panel has no air-cooling vents and provides outstanding protection against dust and foreign particles falling into internal circuitry. As with the other GLC2000 models, the front panels of all GP2300s are rated JEM1030 (IP65f equivalent) and NEMA 4X/12, and conform to CE marking and UL/cUL standards.

Xycom Automation, Inc., is one of the leading global suppliers of innovative industrial automation solutions. Principal products include PC-based, open architecture visualization and control offerings. Xycom products serve industrial, automotive, aerospace, packaging, plastics, textile, and other markets, with hardware and software installed in over 200,000 factory-floor systems worldwide.

Xycom Automation is a wholly owned subsidiary of Pro-face America, Inc., and provides marketing and sales for all Pro-face products in North, Central, and South America, and all Xycom products worldwide. Headquartered in Saline, Michigan, Xycom has employees and representatives around the world.

Founded in January 1999, Pro-face America, Inc. is a majority owned subsidiary of Digital Electronics Corporation based in Osaka, Japan. Pro-face America, the North American headquarters of Digital, is located in Glendale Heights, IL.


More from Architectural & Civil Engineering Products