HM210-05K060LFTR Flyback Transformer offers 305 mΩ primary resistance.
Press Release Summary: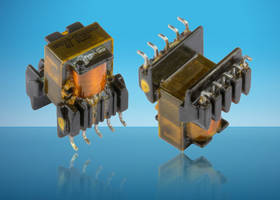 Measuring 19.5 H x 14.5 W x 16.5 mm D size, HM210-05K060LFTR Flyback Transformer provides high saturation current and low leakage inductance. Suitable for inverters, renewable energy inverters and AC and brushless DC motor drives, unit is designed for use with ACPL-32JT/302J IGBT chipset. Operating in -40°C to +155°C temperature range, transformer comes with 5kV isolation voltage between primary and secondary windings.
---
Original Press Release:
Flyback Transformer from TT Electronics is Optimised for Industrial Applications
TT Electronics, a global provider of engineered electronics for performance critical applications, today introduced the HM210-05K060LFTR flyback transformer designed for use with Avago's ACPL-32JT/302J IGBT chipset. With its high level of isolation the transformer is optimized for use in demanding industrial motor control and inverter applications.
The HM210-05K060LFTR flyback transformer offers a higher saturation current capability and a lower leakage inductance performance, making it ideal for high efficiency DC-DC applications where size is critical, and to assure the performance and reliability levels that industrial applications demand.
In designing the transformer, TT Electronics took a holistic approach, considering many aspects in order to produce a product that is perfectly suited to Avago's ACPL-302J, 2.5A gate drive optocoupler with integrated flyback controller, for isolated DC-DC converter applications.
The transformer has a wide operating temperature of -40 to +155°C, the latter figure contributing to its excellent 5kV isolation voltage capability between primary and secondary windings. Small in size, the TT Electronics flyback transformer measures just 19.5 x 14.5 x 16.5mm (HxWxD) and is designed for PCB mounting. It has a primary resistance of 305 milli-ohms.
Used in conjunction with Avago's chipset, TT Electronics' HM210-05K060LFTR is suitable for a wide range of industrial applications including inverters, uninterruptible and switch-mode power supplies, automation systems, DC/DC converters, renewable energy inverters, and AC and brushless DC motor drives.
HM210-05K060LFTR flyback transformers are available in 13 inch reels containing 70 pieces or six-reel shipping cartons comprising 350 pieces.
For further information visit www.ttelectronics.com/magnetics/power-magnetics
Contact:
Brittany Ryan
TT Electronics
Global Marketing Communications Manager
1645 Wallace Drive
Suite 130
Carrollton, TX 75006
Phone: 972-323-2200
Email: brittany.ryan@ttelectronics.com
More from Electronic Components & Devices