High Wear Gate Valve Undergoes Specialty Metal Spray Coating by Pumpcoat for Corrosion Control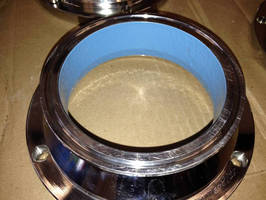 A Contractor had called Pumpcoat regarding our Specialty Coatings.  We have coatings on parts installed in Ash Systems and other highly abrasive applications at Power plants throughout New England.   He wanted to know if we had something that would be able to help one of their clients out. They were a Lab that had gate valves that were seeing high wear and corrosion rates in service.  The Service the valve was in was high temperature vacuum service : 90 degrees Celsius (approx. 194 degrees Fahrenheit) and had HCL and Nano particulate in the gas that the valve came into contact with.



Initially we planned to do the entire coating with Arcor S-20, a high functionality epoxy Novolac designed particularly as a protective coating for metals in highly aggressive environments.  After speaking more to the customer, our Lead technical engineer decided to go with a Hastelloy Spray coating with a top coat of S-20 so the wear rate would decrease significantly.



Hastelloy is actually a coating made up of powdered metal, that when spray-applied in a special chamber, adheres to the item. Hastelloy contains nickel, molybdenum and chromium and offers tremendous corrosive resistance and high temperature strength.  It can be found in applications such as seals, springs, valves and even aerospace parts. The top coat of S-20 offers an additional layer of corrosive resistance. 



By Spraying Hastelloy on 316 Stainless Steel, you can achieve corrosion resistance without the expense of a solid Hastelloy part



The Gate valve delivered to Pumpcoat's shop, disassembled, and the valve part underwent the Hastelloy spray coating process.  Pumpcoat then coated the parts with the S-20, did a Quality control check, and reassembled the valve for delivery back to the customer. The entire process took a couple weeks.  The end result was a problem solved for our customer.   If you have mechanical parts such as valves, seals or others that wear out quickly due to highly corrosive environments, call Pumpcoat at 508-540-5878 to see how we can help.



More from Electronic Components & Devices