High-Speed Video Cameras are offered in 3 versions.
Press Release Summary: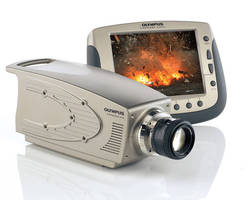 Designed for ballistics testing, i-SPEED FS camera features sub-5 µs IRIG-B time synchronization and time stamping, global shutter speed to 0.2 µs, and top frame speed of one million fps. Model i-SPEED TR, for research and development, can be connected to PC via GbE and is controlled with Olympus Control-Pro Software Suite, while i-SPEED LT offers standalone design with simplified operation. Each can include optional Controller Display Unit for control/live display of all features.
---
Original Press Release:

Olympus Launches New i-Speed High Speed Video Cameras



Olympus is pleased to announce the introduction of the new i-SPEED LT, i-SPEED TR, and i-SPEED FS high speed video cameras. These new units complement an already wide range of industrial high speed video cameras from Olympus and offer users a choice to select from a variety of models based on applications, features, and cost. Unique to Olympus, the optional Controller Display Unit (CDU) gives the user full control and live display of all of the features of each of the cameras in the range - replacing the traditional need for a PC.

The new i-SPEED FS camera is primarily designed for use in the ballistics testing market. Featuring highly accurate IRIG-B time synchronization (sub 5 microseconds) and time stamping, a global shutter speed user selectable to 0.2 microseconds, and a top frame speed of one million frames per second, this camera is ideal for ballistics applications. The FS camera benefits from Olympus' years of experience in digital image processing - the sensor is completely sealed to prevent dust ingress and has extreme low light sensitivity due to large 21 micron pixels - combining to generate unparalleled high quality images.

The new i-SPEED TR is developed for users whose primary concern is to capture high quality, high speed images for review and analysis at a later stage. This solidly aluminum constructed camera is the ideal analysis tool for research and development. The i-SPEED TR can be connected to a PC via its Gigabit Ethernet, which allows the user full control and extensive analysis with the Olympus Control-Pro Software Suite. This software package provides many powerful features such as automatic tracking of up to 64 discrete points in an image, video frame annotation, and HTML report generation.

The new i-SPEED LT is the perfect point-and-shoot high speed video camera for manufacturing and engineering applications in the Production and Processing industries. This is as simple as high speed video gets - plug the camera in, switch the lights on, record video and review immediately on the unique Controller & Display Unit (CDU). This camera is a true standalone system that can be powered by an optional external battery. More importantly, the camera can be remote controlled from the cabled CDU allowing the user to operate all camera functions in a protective area. The i-SPEED LT is specifically designed and built 'tough' to withstand the rigors of high-speed manufacturing conditions.

Since its introduction of the first i-SPEED camera in 2003, Olympus now has a complete portfolio of high speed video cameras that can be used in a large variety of industrial and R& D settings. The new i-SPEED LT, i-SPEED TR, and i-SPEED FS units, in addition to its existing portfolio of cameras provide the user with many choices of options and features for efficient and cost-effective solutions in high speed video (HSV).

About Olympus NDT

Olympus NDT is a world-leading manufacturer of innovative nondestructive testing instruments that are used in industrial and research applications ranging from aerospace, power generation, petrochemical, civil infrastructure and automotive to consumer products. Leading edge testing technologies include ultrasound, ultrasound phased array, eddy current, and eddy current array. Its products include flaw detectors, thickness gages, in-line systems, automated systems, industrial scanners, pulser-receivers, probes, transducers, and various accessories. Olympus NDT is also a distributor of remote visual inspection instruments and high speed video cameras in the Americas. Olympus NDT is based in Waltham, Massachusetts, USA, and has sales and service centers in all principal industrial locations worldwide.

For more information please contact:

Meindert Anderson

Corporate Marketing Communications Manager

(1) 781-419-3562

meindert.anderson@olympusNDT.com

Web: www.olympus-ims.com