High-Speed PWB Component Mounter has compact, modular design.
Press Release Summary: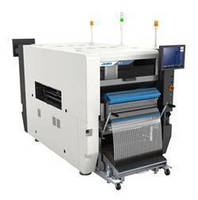 Employing head units on both rear and front sides, RX-6 picks up subminiature, large IC, and odd-shaped components and places them on PWBs. Placement Monitor provides picture of component pick-up/placement to let user monitor mounting process. Rated to 75,000 cph, RX-7 places mainly subminiature components on PWBs. Dual Super Rotary Heads, in parallel head configuration, are equipped with 16 nozzles, and camera installed inside head detects tombstone problem or component absence.
---
Original Press Release:

JUKI Releases New High-Speed Compact Modular Mounter "RX Series"



JUKI introduces the JX Series High-Speed Compact Modular Mounters, which are compact and improve productivity per space of a packaging factory by 58 percent. The systems are available globally as of December 2013.



JUKI's RX-6 is a highly flexible high-speed mounter that can place on PWBs on a wide variety of components from chip components such as subminiature components to large IC components or odd-shaped components. While it succeeds the features of JUKI's flexible mounters "KE-Series," its component placement speed is improved and its size is reduced as compared to these conventional mounters.



Because this mounter is equipped with "head units" that pick up components and place them on PWBs on both the rear and front sides, the head units on the front and rear sides repeat picking up and placing components in turn, reducing loss of work, and almost doubling the productivity. Additionally, applicable IC component height and the supported PWB size is increased, allowing the machine to support various types of production such as mounting of LEDs or PoPs.



The machine is equipped as standard JUKI's original technology, the "Placement Monitor analyze function," which has been in a great demand until now and shoots a picture of a pick-up/placement of a component to allow you to monitor the mounting process in details.  Therefore, it can prevent a failure substrate from going on the market or analyze its cause and quickly take the appropriate countermeasures.



The RX-7 mounter places mainly subminiature components on PWBs at high speed. Many new functions for improving productivity are built into this small footprint mounter.



While the size and weight of the mounter are reduced, it has two "Super Rotary Heads" equipped with 16 nozzles for picking up/placing each component on a PWB.  This feature achieves superior performance:  75,000 CPH. The "parallel head configuration" is used for the heads, and it also improves the production capability of the mounter.



Additionally, the camera installed inside the head detects a tombstone problem or component absence to realize high-speed and high-quality component placement.



Recent SMT applications have been diversified from a smart device such as a smartphone to an automotive Engine Control Unit (ECU), a medical device and a digital consumer electronics device, and electronics circuit boards have become smaller, denser and more functional.



The RX Series platform achieves high productivity and high flexibility, enabling placement of a wide variety of components. Additionally, its high quality prevents faulty substrates from being manufactured or moving to the next stage of the process. Finally, its reduced size allows effective use of factory space.



For more information about JUKI's RX Series, visit http://www.juki.co.jp/smt_e/information/press_release/release_rx-series.html.



Juki, a global leader in high-speed SMT Assembly equipment, has shipped more than 25,000 machines worldwide since 1987.  Juki has built its global image with a combination of top-quality and high-reliability machines with a reputation for world-class service and support that result in the lowest production costs for its customers.  The pioneer of the modular assembly system in 1993, Juki offers flexible solutions designed for both high-volume and high mix environments.



Additionally, Juki Americas offers selective solder and stamp soldering machines backed by the largest field service group in the industry. The company recently introduced a complete line solution to include screen printers, reflow ovens and wave solder systems.



For more information, visit www.jukiamericas.com.

More from Construction Equipment and Supplies