High-Speed MOSFET Drivers offer 12 A peak output current.
Press Release Summary: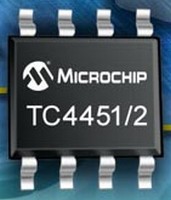 Available in 4 package options, TC4451 and TC4452 offer latch-up immunity to provide resistance to ground bounce and negative input transients that cause false triggering in noisy environments. Drive speed of 15 nF in 27 nS enables charge and discharge of transistor gates in switching power supplies. Both models, suited for industrial applications that utilize power supplies, contain power-transistor and level-shift circuitry needed for motor control applications.
---
Original Press Release:

Microchip Technology Introduces High-Current, High-Speed MOSFET Drivers for Large MOSFETs and IGBTs



Rugged New Devices Offer Peak Output Currents of 12 Amperes, Placing Them Among the Highest-Current MOSFET Drivers in the Industry

CHANDLER, Ariz., Feb. 21, 2006 [NASDAQ: MCHP] - Microchip Technology Inc., a leading provider of microcontroller and analog semiconductors, today announced the TC4451 and TC4452 Metal Oxide Semiconductor Field Effect Transistor (MOSFET) driver circuits. The new drivers offer peak output currents of 12 amperes, making them the highest-current MOSFET drivers offered by Microchip, and among the highest in the industry. The devices feature latch-up immunity and a fast drive speed of 15 nF in 27 nS, which equip them with the ruggedness, high- power switching speeds and sharp edges needed to drive large MOSFETs and Insulated Gate Bipolar Transistors (IGBTs) in demanding, high-efficiency Switch Mode Power Supplies (SMPSs) and other high-speed, high-current switching applications.

The 12 ampere peak output currents of the TC4451 and TC4452 improve power supply efficiency and simplify drive circuits. The devices' latch-up immunity provides superior resistance to the ground bounce and negative input transients that cause false triggering in noisy environments. Additionally, the TC445X drivers' high drive speed of 15 nF in 27 nS enables rapid charge and discharge of the gates of very large transistors in switching power supplies, which conserves power and lowers system costs.

"Today's power supply system designers face seemingly contradictory demands to develop systems with higher load currents and speeds, but also with smaller external components," said Jim Mack, senior product marketing engineer for Microchip's Analog and Interface Products Division. "The circuits that drive the power MOSFETs in such systems must also reflect these attributes. With their ability to rapidly charge and discharge the gates of even the largest MOSFETs in power supply systems, the TC4451 and TC4452 drivers help designers to meet all of these requirements while keeping costs low."

The TC445X drivers are ideal for industrial applications that utilize power supplies, as well as motor control applications. They directly drive small, direct current (DC) motors, such as those found in home appliances, automobiles and power tools. Further, the devices contain the power-transistor and level-shift circuitry needed for motor control applications, thereby reducing the number of external system components needed and lowering overall system costs.

The second family in a series of advanced MOSFET drivers recently introduced by Microchip, the TC4451 and TC4452 drivers follow the recently introduced TC4421A and TC4422A 9 ampere MOSFET drivers, which are improvements upon the TC4421 and TC4422 drivers. For more information on Microchip's MOSFET driver portfolio, please visit www.microchip.com/MOSFET.

Packaging, Pricing and Availability
Pricing for the TC445X MOSFET drivers in the 8-pin SOIC and PDIP package options is $1.44 each in 10,000-unit quantities. Pricing for the devices in the 8-pin DFN package is $1.64 each in 10,000-unit quantities, and $1.81 each in 10,000-unit quantities for the 5-pin TO-220 package. Sampling and volume production are available today at sample.microchip.com/ and www.microchipdirect.com, respectively. For additional information, contact any Microchip sales representative or authorized worldwide distributor, or visit Microchip's Web site at www.microchip.com/TC445X.

Microchip Customer Support
Microchip is committed to supporting its customers by helping design engineers develop products faster and more efficiently. Customers can access four main service areas at www.microchip.com. The Support area provides a fast way to get questions answered; the Sample area offers free evaluation samples of any Microchip device; microchipDIRECT provides 24-hour pricing, ordering, inventory and credit for convenient purchasing of all Microchip devices and development tools; finally, the Training area educates customers through webinars, sign-ups for local seminar and workshop courses, and information about the annual MASTERs events held throughout the world.

About Microchip Technology
Microchip Technology Inc. (NASDAQ: MCHP) is a leading provider of microcontroller and analog semiconductors, providing low-risk product development, lower total system cost and faster time to market for thousands of diverse customer applications worldwide. Headquartered in Chandler, Ariz., Microchip offers outstanding technical support along with dependable delivery and quality. For more information, visit the Microchip website at www.microchip.com.

Note: The Microchip name and logo are registered trademarks of Microchip Technology Inc. in the USA and other countries. All other trademarks mentioned herein are the property of their respective companies.

Michelle Ragsdale
Public Relations Specialist
Microchip Technology Inc.
Office (480) 792-4111
michelle.ragsdale@microchip.com

Related