High Speed Elevated Array offers design density and flexibility.
Press Release Summary: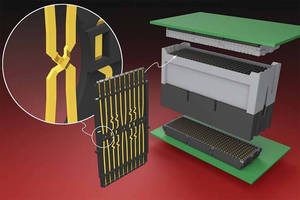 Supporting 28+ Gbps applications and PCIe®/XAUI specifications, SkyRay™ consists of one riser and 2 receptacles (TPAR/TPAF Series) that, when mated, provide elevated 35 mm stack height. High-density wafers inside riser have helical crossover design to reduce crosstalk in 100 Ω differential applications, and choice of 1, 2 or 3 module configurations is available with 50 differential pairs per module on staggered 1.50 mm x 1.75 mm pitch. Stack height aids airflow and accommodates misalignment.
---
Original Press Release:

SkyRay(TM) High Speed Elevated Arrays Offer High Density Design Flexibility Now Available



Samtec's newly released SkyRay™ elevated array system offers design flexibility and high speed performance without sacrificing signal integrity. The high speed system supports 28+ Gbps applications, as well as PCIe® and XAUI specifications.



SkyRay™ is a three-piece system consisting of one riser and two receptacles (TPAR/TPAF Series) that when mated provides an elevated 35 mm stack height. High density wafers inside the riser feature a helical crossover design to greatly reduce crosstalk in 100Ω differential applications. A choice of 1, 2 or 3 module configurations is available with 50 differential pairs per module on a staggered 1.50 mm x 1.75 mm pitch. The elevated stack height aids in system airflow and accommodates for wide misalignment tolerances in the X-Y axes. Low profile receptacles with solder ball termination allow low thermal mass for easy reflow processing and a removable riser simplifies stack height changes for increased system flexibility.



Also available are stack heights from 18 mm to 40 mm for increased flexibility. An installation cap is available for manually mating the system, along with an extraction tool for removing the reusable riser should receptacle replacement be necessary.



Dual sourced for Hirose IT5.



PCIe® is a registered trademark of PCI-SIG®.



To request a high resolution image for print, please contact:

PR@samtec.com



For product specifications, see samtec.com?TPAR or samtec.com?TPAF.



Samtec, Inc.

P.O. Box 1147

New Albany, IN 47151-1147 USA

Phone: 1-800-SAMTEC-9 (800-726-8329)

Email: www.samtec.com

Asia: singapore@samtec.com

Australia: australia@samtec.com

France: france@samtec.com

Germany: germany@samtec.com

United States: info@samtec.com

United Kingdom: scotland@samtec.com



More from Transportation Industry Products