High-Speed Discrete IGBTs feature low saturation voltage.
Press Release Summary: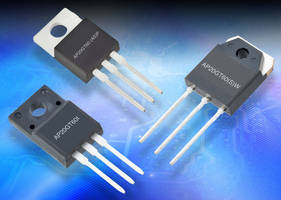 Suited for use in AC and DC motor control, home appliances, UPSs, solar inverters, and induction cookers, AP20GT60 series features collector/emitter voltage (VCE) rating of 600 V and peak gate emitter voltage rating (VGE) of ±20 V. Nominal models have saturation voltage, VCE(sat), rating @ Ic=20 A of 1.8 V and max power dissipation of 25, 125, or 104 W at 25°C. Corresponding models with internal diode and fast recovery diode feature VCEsat of 1.7 V at Ic=19 A or Ic=12 A or 1.8 @ Ic=20 A.
---
Original Press Release:

New Family of High Speed 600V Discrete IGBTs from Advanced Power Electronics Corp. Feature Very Low Saturation Voltage



San Jose, CA...Advanced Power Electronics Corp. (USA), a leading Taiwanese manufacturer of MOS power semiconductors for DC-DC power conversion applications, has recently released a new family of high speed 600V discrete IGBTs for use in AC and DC motor control, home appliances (such as air conditioning, refrigerators, microwave ovens), UPS, solar inverters, and induction cookers.

All AP20GT60 family IGBTs feature a collector/emitter voltage rating, VCEs, of 600V, a peak gate emitter voltage rating, VGE, of ±20V, and a very low saturation voltage.

AP20GT60P-HF-3 benefits from a typical saturation voltage, VCE(sat), of 1.8V at Ic=20A, a maximum power dissipation at 25degC of 104W, and comes in a fully RoHS-compliant and halogen-free TO-220 package. AP20GT60ASP-HF-3 (with internal diode) has a typical saturation voltage of 1.7V at Ic=19A, a maximum power dissipation at 25degC of 78W, a diode forward current rating of 8A, and a diode pulse forward current rating of 40A. It comes in a fully RoHS-compliant and halogen-free TO-220 package.

Featuring a saturation voltage of 1.8V at Ic=20A and a maximum power dissipation at 25degC of 25W, the AP20GT60I-HF-3 device comes in a fully RoHS-compliant halogen-free TO-220CFM insulated package. The corresponding AP20GT60ASI-HF-3 IGBT with internal diode has a typical saturation voltage of 1.7V at Ic=12A, a maximum power dissipation at 25degC of 33W, a diode forward current rating of 8A, and a diode pulse forward current rating of 40A . The device comes in a fully RoHS-compliant halogen-free TO-220CFM insulated package.

AP20GT60W-HF-3 is in the fully RoHS-compliant halogen-free TO-3P allowing maximum power dissipation at 25degC of 125W. It also benefits from a typical saturation voltage of 1.8V at Ic=20A. The equivalent AP20GT60SW-HF-3 device has the built-in fast recovery diode, with a diode forward current rating of 40A, and a typical saturation voltage of 1.8V at Ic=20A. Maximum power dissipation at 25degC is also 125W in a fully RoHS-compliant halogen-free TO-3P package.

About Advanced Power Electronics Corp.
Established in Taiwan in 1998, Advanced Power Electronics Corporation has become a leading supplier of MOS power discretes, IGBTs and Power ICs which enable cost-effective efficient solutions for new and existing power applications. The company's wide range of solutions broadly targets the computing, consumer electronics, display, communications and industrial segments. ISO-certified, with a commitment to consistent quality assurance and increased economies of scale, Advanced Power Electronics Corp. has seen the company revenue increase - trading profitably each year since its foundation - and it has been ranked as one of the world's top fifteen power MOSFET suppliers by iSuppli.

For further information:
Ralph Waggitt,
President/CEO, Advanced Power Electronics Corp. (USA),
Tel: +1 408-717-4231
Email: rwaggitt@a-powerusa.com
http://www.a-powerusa.com

For press enquiries:
Nick Foot
Billings Group
Tel.: +44 1491-636393
Email: nick.foot@billings-europe.com

More from Electrical Equipment & Systems