High-Frequency Oscillators offer 8-12 GHz electrical tuning.
Press Release Summary: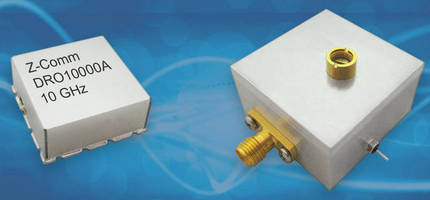 Using high-Q dielectric resonators, DRO Series is designed for up/down converter systems requiring ultra-low phase noise (-110 dBc/Hz @ 10 kHz offset) LO solution. Electrical tuning option for the version operating at 10 GHz has control range of 0-12 Vdc, promoting ultra-fine tuning precision. Electrical tuning provides ±3 MHz of frequency control, facilitating and accelerating oscillator phase-lock. Package options include SMT or connectorized metal enclosure.
---
Original Press Release:

New DRO Series VCOs with Electrical Tuning 8 to 12 GHz



Low Phase Noise (-110 dBc/Hz @ 10 kHz offset)
Low Power Consumption (100 mW)
Surface Mount Package or Connectorized Metal Enclosure

Z-Communications, Inc., the leader in Voltage Controlled Oscillator (VCO) technology, has raised performance standards to new heights through the introduction of the DRO Series of high performance oscillators. DRO oscillators are sure to meet the demands of any Up/Down Converter system requiring an ultra-low phase noise LO solution. The DRO Series of high frequency oscillators use high-Q dielectric resonators and are currently available at 8 to 12 GHz. The electrical tuning option for the DRO operating at 10 GHz has a control range of 0-12 Vdc, providing ultra-fine tuning precision. The electrical tuning provides ±3 MHz of frequency control allowing the oscillator to be quickly and easily phase-locked. DRO Series oscillators provide a low phase noise and an exceptional spectral purity as good as -110 dBc/Hz, typically, at 10 kHz from the carrier. DROs minimize power consumption by operating off a 5 Vdc bias while drawing only 20 mA, typically, and are available in a surface mount packages measuring 0.91 x 0.91 x 0.40 inches. For rugged applications, DROs are available in a connectorized metal enclosure measuring 1.25 x 1.25 x 0.85 inches.

In addition to the superior phase noise performance and electrical tuning advantage, the DRO series oscillators deliver 0±3 dBm of output power into a 50 ohm load. DROs are designed to operate over the industrial temperature range of -40 to 85°C making them a good fit for the toughest environmental applications. These exceptional devices will enhance any PLL control system due to their low tuning sensitivity figure of approximately 1 MHz/V. The DRO Series oscillators have second harmonic attenuation of better than -25 dBc. The pushing specification for the 10 GHz DRO is less than 1 MHz/V within a 5% change of the supply voltage while pulling is less than 2 MHz with a 12 dB return loss, any phase. Delivery time is 4-6 weeks ARO at $195.00 each. Contact the factory for production delivery and OEM pricing.

For further information on the DRO Series or any other oscillator product from Z-Communications, please contact an Applications Engineer via e-mail at applications@zcomm.com or you can visit the company web site at www.zcomm.com.

More from Test & Measurement