High-Flow Spray Gun serves high-volume and large-part operations.
Press Release Summary: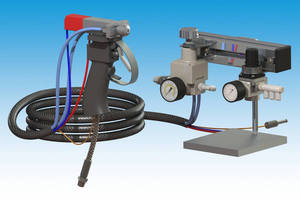 Intended for masking and coating applications requiring flow rates from 2.5–20 oz/min, SG-200 Super-Flow Spray Gun System dispenses fluids with viscosities from 5,000–80,000 cP. Normally closed, stainless steel needle valve controls fluid flow, and dual-acting air cylinder provides immediate start/stop functionality. Dual-port, atomizing nozzle design ensures symmetrical delivery of materials in high-volume and large-part applications.
---
Original Press Release:

SG-200 Maximizes Productivity for High-Volume and Large-Part Operations



Torrington, Connecticut – Dymax Corporation has introduced the new SG-200 Super-Flow Spray Gun System, designed for masking and coating applications where significantly higher flow rates are required.  With achievable flow rates of 2.5 – 20 oz. per minute, the system helps operators maximize productivity in high-volume and large-part masking and coating applications.  It's ideal for dispensing fluids with viscosities between 5,000 cP and 80,000 cP and provides a flow rate that is 5-10 times higher than other spray guns on the market.



The SG-200 utilizes a normally closed, stainless steel needle valve to control fluid flow and a dual-acting air cylinder to provide immediate start/stop functionality. The system's dual-port atomizing nozzle design ensures symmetrical delivery of materials across a wide range of viscosities.  Typical spray applications include masking turbines, metal substrates, and medical implants prior to surface treatment, coating large parts with grease or other lubrication before assembly, and spraying solvents for cleaning part surfaces.



In addition to adhesives and coatings, Dymax also offers high-performance oligomers and a variety of dispensing and light-curing equipment.  The company's products are perfectly matched to work seamlessly with each other, providing design engineers with tools to dramatically improve manufacturing efficiency and reduce costs.



For additional information, visit www.dymax.com or contact Dymax Application Engineering at info@dymax.com or 860-482-1010.  Dymax Corporation develops innovative oligomer, adhesive, coating, dispensing, and light-curing systems for applications in a wide range of markets.  Major markets include aerospace, appliance, automotive, electronics, industrial, medical device, and metal finishing.



Contact: Corinne Rebillard

Marketing Projects Specialist

Dymax Corporation

(860) 482-1010

crebillard@dymax.com