High-Density Signaling Blades utilize ATCA platform.
Press Release Summary: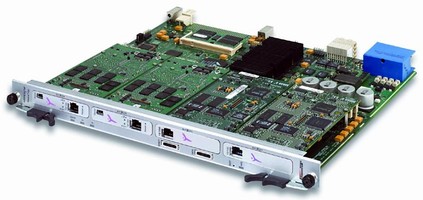 Equipped with up to 32 T1/E1 spans, SpiderWareSS7 provides up to 128 SS7 signaling channels with 100% line utilization across E1/T1 interfaces, facilitating addition of SS7 signaling to ATCA-based network elements. SpiderWareSG high-density ATCA signaling gateway blade converts legacy SS7 and IP-based SIGTRAN signaling, providing up to 128 SS7/SIGTRAN signaling channels with 80-100% line utilization. SpiderWare ATCA hardware platform features 1 GHz MPC7448 processor.
---
Original Press Release:

Artesyn Announces Industry's Highest Density ATCA Signaling Blade



High-density gateway provides 128 channels of SS7 and SIGTRAN signaling with 80% line utilization

Madison, WI. January 16, 2006 - - Artesyn Communication Products, a subsidiary of Artesyn Technologies (NASDAQ: ATSN), today announced AdvancedTCA (ATCA) implementations of its SpiderWareSS7 signaling blade and SpiderWareSG signaling gateway. The new blades, utilizing a common ATCA hardware platform, deliver twice the signaling density and line utilization of competitive signaling and gateway blades.

SS7 (Common Channel Signaling System No.7) is a signaling protocol used to provide services such as call set up, teardown, routing, local number portability, and call forwarding in legacy public switched telephone networks. SIGTRAN (SIGnaling TRANsport) specifies a method for transporting SS7 signaling information over IP-based packet networks, which enhances efficiency and flexibility while reducing cost. SIGTRAN also makes the underlying transport mechanism transparent to the application code, thereby allowing service providers to use existing SS7 applications across either traditional TDM or IP transport infrastructure.

"Our SS7 signaling and SIGTRAN blades provide the highest density and line utilization of any blade in the business," said Todd Wynia, vice president of product management at Artesyn Communication Products. "Now we are providing them in a convenient ATCA form factor that makes it easier than ever for telecom equipment OEMs to add high-performance signaling to legacy PSTN and next-generation IP networks without compromising investments in existing SS7 code."

SpiderWareSS7 provides SS7 signaling channels across E1/T1 interfaces, making it easy to add SS7 signaling to ATCA-based network elements such as Signaling Transfer Points (STPs), Service Control Points (SCPs), Signaling Gateways, and Base Station Controllers (BSCs). Equipped with up to 32 T1/E1 spans, SpiderWareSS7 provides up to 128 SS7 signaling channels with 100% line utilization, twice that of competitive solutions. SpiderWareSS7 provides a complete SS7 stack that includes lower layer protocols such as MTP1 and MTP2, as well as upper layer SS7 protocols such as MTP3, ISUP and SCCP. The stack complies fully with ANSI, ITU, Telcordia, and IETF standards.

SpiderWareSG is a high-density ATCA signaling gateway blade that converts between legacy SS7 and IP-based SIGTRAN signaling, providing up to 128 SS7/SIGTRAN signaling channels with 80 to 100% line utilization (depending on packet size). SpiderWareSG provides a complete SIGTRAN signaling gateway on a single ATCA blade, enabling PSTN networks utilizing SS7 signaling to connect to IP-enabled STPs, SCPs, BSCs, Radio Network Controllers, Home Location Registers, Softswitches, and Visitor Location Registers.

SpiderWare uses SIGTRAN's M2UA, M2PA and M3UA protocol layers to provide a transparent connection between the TDM-based SS7 network and the equivalent SIGTRAN layer on the IP side of the network. SpiderWareSG can also act as a gateway between M2UA and M3UA to bridge disparate legacy network topologies. SpiderWareSG is compatible with existing SS7 applications and requires no change to the SS7 network topology or reconfiguration of SS7 network elements.

SpiderWareSG provides up to 32 E1/T1 spans for communications with the SS7 the network, and multiple Gigabit Ethernet links (available via switch fabric or front panel) for communications with the IP network. SpiderWareSG provides a complete STREAMS-based implementation for SS7's lower-level MTP1 and MTP2 protocol layers, and SIGTRAN's SCTP and M2UA layers. Upper layer protocols such as MTP3, M2PA, M3UA, ISUP and SCCP are also available. The stack complies fully with ANSI, ITU, Telcordia, and IETF standards, and is interoperable at each layer with all industry standard implementations.

Hardware configuration

The SpiderWare ATCA hardware platform features a 1-GHz MPC7448 processor running Wind River's PNE LE Carrier Grade Linux. Equipped with 512MBytes of DDR SDRAM memory and 64 Mbytes of flash memory, the MPC7448 processor performs protocol processing and hosts customer applications. The blade's T1/E1 interface, which provides 8, 16, or 32 T1/E1 spans, utilizes a PowerQUICC II processor to perform data protocol processing.

SpiderWare's high-speed PICMG 3.1-compliant ATCA fabric interface features high-speed control and data plane connections. The control plane, utilizing two Gigabit Ethernet channels, connects directly to the ATCA Base Fabric. The data plane, managed by a 24-port Ethernet switch, uses eight Gigabit Ethernet ports to connect to the ATCA High Speed Fabric. SpiderWare also features a redundant PICMG 3.0 Intelligent Platform Management Interface, which makes it easy for shelf management controllers to monitor, control and exchange management with SpiderWare blades.

SpiderWareSS7 and SpiderWareSG comply with all major safety, EMC, and environmental standards, including IEC60950/EN60950, UL60950, CSA C22.2, Global IEC - CB Scheme Report IEC 60950), NEBS Telecordia GR-63, and GR1089 Level 3, FCC Part 15 (U.S. and Canada), and ETSI EN300386-V1.3.1.

About Artesyn Technologies, Inc.

Artesyn Technologies, Inc., headquartered in Boca Raton, FL., is a world leader in the design, manufacture and sale of power conversion and single-board computing solutions for infrastructure applications in telecommunications and data-communications systems. The Company's products are used in middle to high-end servers, data storage devices, routers, hubs, high-speed modems, RF amplification systems, base station controllers and transceivers. The Company has a global sales reach with design and manufacturing facilities in Asia, Europe and North America. Artesyn is a public company whose common stock is traded on the Nasdaq stock market under the symbol ATSN. For more information, please visit the Company's web site at artesyn.com.

Company Contact

Kim Anderberg
Marcom Manager, ACP
608-831-5500
KimA@artesyncp.com

More from Cleaning Products & Equipment