High Availability Control offers Profinet communications.
Press Release Summary: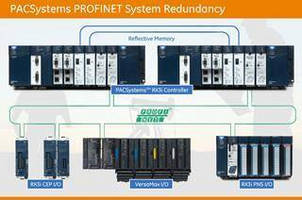 Providing single point of connect, PACSystems® High Availability with PROFINET System simplifies configuration, maintenance, and operation of mission critical facilities and operations. All remote I/O nodes, whether they are 100 m or 10 km from controllers, can be configured from one central location. With built-in Ethernet switches and media conversion, solution offers point-to-point plug-in connectivity. System targets power, transportation, water/wastewater, mining, and oil/gas industries.
---
Original Press Release:

GE Expands Control Platform with PACSystems® High Availability with PROFINET



Dramatically lowers total cost of ownership and simplifies ability to configure, maintain and operate mission critical facilities or operations

Built on decades of GE expertise in high availability systems in backup power and critical cooling applications

Single point of connect no matter the distance



CHARLOTTESVILLE, VA — GE Intelligent Platforms (NYSE: GE) has added one more solution to the company's high performance connected automation architecture with the expansion of its high availability control platform. PACSystems® High Availability with PROFINET System enables companies with mission critical applications across a broad range of industries including Power, Transportation, Water & Wastewater, Mining, and Oil & Gas to maximize uptime, capitalize on flexible configurations no matter the distance between CPUs and I/O drops and fully utilize the intelligence that exists in their systems for faster decision-making. The new system's high availability architecture includes PROFINET communications to dramatically lower total cost of ownership and simplify configuration, maintenance and operation of mission critical facilities and operations.



"In today's connected world, companies must increasingly rely on automation architecture that is redundant, flexible, operates in remote configurations, and provides for information insight to boost reliability," said Bernie Anger, General Manager for GE Intelligent Platforms Control & Communications Systems. "With PACSystems High Availability with PROFINET, we have dramatically simplified the complexity and reduced the cost involved with a high availability control solution. This helps companies achieve new levels of performance and confidence in the continuous operation of critical facilities and processes."



GE's industry-leading high availability control solutions enable companies to meet or exceed their critical facility and operation uptime requirements. The systems focus on the customer needs of simplification and speed – simple configuration and fast execution of the process.



PACSystems High Availability with PROFINET provides a single point of connect for system configuration. All remote I/O nodes, whether they are 100 meters or up to 10kms from the controllers, can be configured from one central location. With built-in Ethernet switches and built in media conversion, the solution provides for point-to-point plug-in connectivity. Removing the need for external media converters and Ethernet switches results in reduced cost and setup time. In addition, the user can employ their cable of choice on a node-by-node basis based on the environment and distance, which also reduces the setup time. Also essential to reducing setup time is the system's name based configuration. This feature allows a user to set up a system, mirror it with a command to the second CPU and then they are good to go.



"This is the 'triple play' of lower TCO," continued Anger, "fewer external devices to purchase, fewer external devices to configure, and fewer spare parts to maintain. This can eliminate up to 30% of the cost of the installation with recurring savings throughout the solution's lifespan."



Standards-based systems like PACSystems High Availability with PROFINET provide multiple levels of real time control. PROFINET delivers the broadest coverage for discrete and process applications and the best performance for mid- to heavy traffic. In addition, it boasts a high adoption rate among vendors for an ecosystem of PROFINET-enabled devices that make it the Ethernet standard of choice for mission critical purposes.



The system's high speed failover feature is especially important in a process where "stale data," data that is not inclusive of everything that has happened in the process because a sensor did not read while the process was switching CPUs, could mean a breakdown that resulted in contaminated product – water, oil, gas, etc. High speed failover means that the user is running on latest system inputs, which translates to better production quality.



And, users can conduct system maintenance without taking the system offline, saving time and money. Users can schedule device checking, such as a valve not opening correctly based on flow commands, without taking the entire pipeline control down. Flexible diagnostics supply important data regarding the network topology and the status of all devices. This facilitates cross-vendor, location-specific diagnostics and connects to the Proficy Software suite for turning data into information.



"Connected machines, connected data and insights, and connected people are must-haves today," concluded Anger. "The industry has to support this shift from hardwired legacy systems to a streamlined architecture that is easier to use and maintain, provides greater insight and ultimately delivers more value."



For more information about PACSystems High Availability with PROFINET, click here.



About GE

GE (NYSE: GE) works on things that matter. The best people and the best technologies taking on the toughest challenges. Finding solutions in energy, health and home, transportation and finance. Building, powering, moving and curing the world. Not just imagining. Doing. GE works. For more information, visit the company's website at www.ge.com.



Media contacts:

Elli Holman

GE Intelligent Platforms, Public Relations Director

Phone: +1 508 698 7456

Mobile: +1 508 298 8306

Email: elli.holman@ge.com

More from Agricultural & Farming Products