Multi Axis Positioning Stages / Tables
Heavy Load Stages move at speeds of 125mm/sec.
Press Release Summary: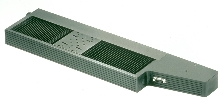 Each stage can handle loads of 13 kg in horizontal and vertical directions, using recirculating ball slide and 12 mm diameter, 2 mm-lead leadscrew driven by 48 Vdc, 90 W servomotor. Travel distances range from 50 to 300 mm. Units offer accuracy of ±2.5 mm per 25 mm of travel and flatness of ±1 mm per 100 mm, and resolution of 0.5 mm with repeatability of ±0.5 mm.
---
Original Press Release:

Edmund Industrial Optics Announces Heavy Load Stages


March 20, 2002, Barrington, NJ - Edmund Industrial Optics (EO) of Barrington, New Jersey has announced the release of new heavy load stages designed to meet the most rugged and demanding of requirements. Each stage can handle a load of 13 kg in the horizontal and vertical directions. Travel distances range from 50 mm to 300 mm. The stages offer an accuracy of ±2.5 mm per 25 mm of travel and a flatness of ±1 mm per 100 mm. These stages are ideal for precision applications: they feature a resolution of 0.5 mm with a repeatability of ±0.5 mm.

Three slides are available, all 160 mm wide, with the following travel length and total length combinations.

Travel length: 50mm, total length: almost 400mm.
Travel length: 150mm, total length almost 500mm.
Travel length: 300mm, total length almost 650mm.

Two stages can easily be mounted in an XY orientation via mounting holes on the carrier and bottom of the stages. The stages use a recirculating ball slide and a 12-mm-diameter, 2-mm-
lead leadscrew driven by a 48 V DC 90W servomotor. The stages move at speeds of 125mm/sec.

About Edmund Industrial Optics Inc.

Edmund Optics (EO) has been a leading supplier of optics and optical components to industry since 1942, designing and manufacturing a wide array of multi-element lenses, lens
coatings, imaging systems, and opto-mechanical equipment. EO is application-focused and pursues new ways to implement optical technology, enabling advancements in semiconductor manufacturing, industrial metrology, and medical instrumentation. Our staff and facilities span the US, Europe, Singapore, Japan, and China. EO's skilled optical engineers design precision products for use in research, test & measurement applications, and for the automation of
manufacturing processes. Visit www.edmundoptics.com to learn more.

Contact:
James E. Liolin
Lion Advertising
516-294-9250
jliolin@lionadv.com

Julianne Wagner
Edmund Industrial Optics
856-573-6250 ext. 6158
jwagner@edmundoptics.com

More from Electrical Equipment & Systems