Heavy-Duty Studs clinch permanently into thin metal sheets.
Press Release Summary: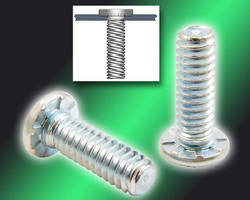 Available in lengths up to 2 in., PEM® Type THFE™ Studs feature enlarged head diameter that distributes axial tightening force over wide area to minimize compressive stress on host panel, optimize pull through performance, and develop full thread strength. Self-clinching studs install into steel or aluminum sheets as thin as .031 in. with hardness of HRB 85 or less on Rockwell B scale and HB 165 or less on Hardness Brinell scale. Thread sizes range from ¼-20 through 5/16-18 and M6–M8.
---
Original Press Release:

New PEM® Type THFE(TM) Heavy-Duty Studs with Large Diameter Heads Clinch Permanently Into Thin Metal Sheets and Reduce Stress on Panels



New PEM® Type THFE™ heavy-duty studs from PennEngineering® clinch permanently into thin metal sheets to provide robust fastening solutions and practical alternatives to weld studs for especially demanding applications where high strength attachment may be required.  Their enlarged head diameter distributes axial tightening force over a wide area to reduce compressive stress on the host panel, improve pull through performance, and develop full thread strength.  In addition, a thicker head design serves to accommodate larger holes in attached panels.



These studs install easily and quickly using any standard press by inserting them into a properly sized mounting hole (punch side) and into the anvil hole and then applying sufficient squeezing force.  This action embeds the ribs on the head of the stud into the host sheet and the fastener becomes a permanent part of the assembly.



Type THFE self-clinching studs install reliably into steel or aluminum sheets as thin as .031" / 0.8mm with hardness of HRB 85 or less on the Rockwell "B" scale and HB 165 or less on the Hardness Brinell scale.  Thread sizes range from ¼-20 through 5/16-18 and M6 through M8.  Standard stud lengths are available up to 2" / 50mm.



Detailed specifications, CAD models, and performance data (Bulletin THFE) for these RoHS-compliant studs can be accessed at www.pemnet.com



Contact Michael J. Rossi, PennEngineering®, 5190 Old Easton Road, Danboro, PA 18916-1000 USA.  Phones: 800-237-4736 (toll-free in the U.S.) or 215-766-8853; Fax: 215-766-0143.  Web site:  www.pemnet.com

More from Fasteners & Hardware