Heat Sink cools BGA components in low airflow conditions.
Press Release Summary: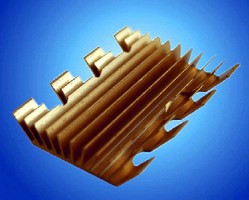 Measuring 9 mm in height, Model EX2 is suited for use inside enclosures where space is limited. Case-to-ambient thermal resistance is 1.8°C/W within air velocity of 600 fpm. Unit can be securely attached to component with double-sided, thermally conductive adhesive tape. No mechanical hardware is required.
---
Original Press Release:

Heat Sinks Cool BGAs in Low Air Flow Conditions



Norwood, MA - Advanced Thermal Solutions, Inc. (ATS) has introduced a low profile, high performance heat sink designed for cooling hot BGA components in low airflow velocity conditions. The EX2 heat sink is only 9 mm in height, which allows its use inside enclosures where space is limited. Its case-to-ambient thermal resistance is 1.8°C/W within an air velocity of 600 ft/min.

EX2 heat sinks weight just 16 grams and can be securely attached to a component with double-sided, thermally conductive adhesive tape. With no mechanical hardware needed, weight and assembly time are reduced and valuable board space is conserved.

Prices for EX2 heat sinks start at less than $8.00 each in volume orders. More information on these sinks can be found on the Advanced Thermal Solutions web site, www.qats.com, or by calling 1-781-769-2800.

Advanced Thermal Solutions is a leading engineering and manufacturing company supplying complete thermal and mechanical packaging solutions from analysis and testing to final production. ATS provides a wide range of heat sinks and laboratory-quality thermal instrumentation, along with thermal design consulting services and training.

For technical information, please contact:
Bahman Tavassoli
Chief Technologist
Advanced Thermal Solutions, Inc.
89-27 Access Road
Norwood, MA 02062 USA
Tel: 781-769-2800, ext. 155
E-mail: btavassoli@qats.com

Please send inquiries to:
Raymond Santos
Marketing Development Specialist
Advanced Thermal Solutions, Inc.
89-27 Access Road
Norwood, MA 02062 USA
Tel: 781-769-2800, ext. 255
E-mail: rsantos@qats.com

More from HVAC