Heat-Formed Tubing & Hose Eliminates Fitting Connections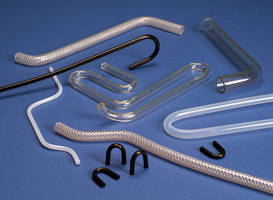 Reduces Kinking & Flow Restrictions

Southampton, PA - Tubing manufacturer NewAge® Industries now offers tubing and hose that's heat formed into specific shapes. Parts are custom designed and produced using heat and special tooling. Many applications that involve multiple sections of tubing or hose, along with fittings and clamps to make connections, can benefit from this customization.

Heat-formed shapes eliminate extra fittings and clamps, their potential for leaks, and their inventory. With a heat-formed shape, only one part is needed instead of separate pieces that must bend around or through other equipment and machinery.

Turns and twists can cause some tubing and hose to kink, thereby cutting off fluid or air flow. A formed piece that's custom made for a specific use greatly reduces the risk of kinking and flow impediment.

Heat-formed shapes also ease and speed installations because there are fewer connections to make. They reduce the need for cumbersome fittings and clamps, which can be critical in restricted space applications. The reduction of connections improves the appearance of finished products, too, as fluid or air transfer is streamlined into a single unit.

A wide variety of shapes are possible, from single elbows and curves to parts involving coiled sections, flared ends, and multiple twists and bends. Materials that can be heat formed include PVC, polyurethane, nylon, and other thermoplastics. Both unreinforced tubing and braid reinforced hose may be used. And because NewAge stocks millions of feet of tubing and hose, heat-formed shapes can often be manufactured quickly (following the creation of tooling if needed). Production by experienced Custom Fabrication team members in a controlled environment on dedicated equipment assures high-quality finished parts. Other customization includes thermally-bonded tubing, hose assemblies, coiling, cutting and printing, and dip molded tubing.

For more information on NewAge Industries' heat formed tubing and hose, contact the Fluid Transfer Specialists® at NewAge Industries, Inc., 145 James Way, Southampton, PA 18966; phone 800-50-NEWAGE (800-506-3924) or 215-526-2300; fax 800-837-1856 or 215-526-2190; e-mail: info@newageindustries.com: online at http://www.newageindustries.com/heatform.asp

About NewAge Industries and AdvantaPure

In business since 1954, NewAge Industries manufactures and fabricates thermoplastic and thermoset tubing and hose. The company offers one of the broadest product lines of tubing, hose, and fittings in the U.S., and its custom extrusion and fabrication services are unrivaled. NewAge Industries maintains a large inventory and prides itself on same-day shipment of 98% of orders for its core product lines. In 2006, NewAge initiated an ESOP (Employee Stock Ownership Plan) for the benefit of both its employees and customers.

The AdvantaPure division of NewAge Industries specializes in clean products for the pharmaceutical, biomedical, food, beverage, chemical, and cosmetic industries. All products are manufactured, stored, and shipped using the cleanest methods possible to ensure unsurpassed product purity.

More from Fluid & Gas Flow Equipment