HDU Signboard requires minimal prep work, primer, or paint.
Press Release Summary: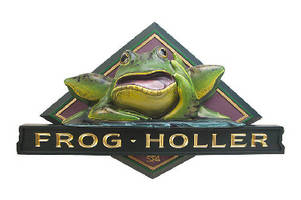 Available in 15 and 18 lb densities, Sign•Foam4® with Microcell Technology is suited for CNC-machining finely detailed designs and lettering, and nearly invisible surface textures. High-density urethane material is completely waterproof; does not warp, bow, crack, rot, or decompose; and is suited to any indoor/outdoor application. Nontoxic and free of VOCs and CFCs, Sign•Foam4® offers creative medium for dimensional sign making, environmental graphics, 3-D displays, and model making.
---
Original Press Release:

SignoArts Products to Debut SignoFoam4® with Microcell Technology at ISA International Sign Expo April 24-26, 2014



Ultra-smooth HDU signboard supports intricate detail, cuts production and finishing time



TACOMA, Wash.,  – Sign•Arts Products Corp. will introduce next-generation Sign•Foam4® at the 2014 ISA International Sign Expo April 24-26 in Orlando, Florida. It will spotlight this timesaving creative medium for 3-D signs, dimensional graphics and displays at the Sign•Foam booth, #906, in the Orange County Convention Center.



Available in 15- and 18-lb. densities, Sign•Foam4 with Microcell Technology is ideal for CNC-machining finely detailed designs and lettering, and nearly invisible surface textures. The advanced high-density urethane material produces silky-smooth finishes with minimal prep work, and requires fewer coats of primer and paint. Sign•Foam4 is also tough and durable, making it superb for small shapes and outdoor applications.



"When you consider how much less time you'll spend cutting, prepping, sanding, filling, priming, painting and even cleaning up, Sign•Foam4 delivers tremendous value for the money," said Joe Scienski, chief executive officer of Sign•Arts Products. "Plus, its finer cell structure at lower densities is comparable to others' higherdensity products."



With its uniform, grain-free microcell structure, Sign•Foam4 offers infinite options for painting, finishing and creating special effects. Its smooth-as-silk surfaces and clean-cut edges also reduce production and finishing labor time because they require minimal sanding and usually no filling. There's less cleanup, too, because this wood-alternative sign board creates wood-like shavings when carved or machined.



A dream to machine

Sign makers who performed the first tests of Sign•Foam in their own shops were impressed with the results. "Sign•Foam4 machines beautifully with our CNC router. We were able to create edges and backgrounds so smooth as to barely see texture with the naked eye," noted David McDonald, owner of Avila Sign & Design in Arroyo Grande, California. "The smooth finish also improves speed and precision when carving by hand because it's easier to see the tracking of the cuts."



Sign•Foam4 is produced by General Plastics, an innovative manufacturer of unique polyurethane foams renowned for strength, exceptional physical characteristics and quality. Its proprietary processes result in a remarkably consistent sign and display board that remains dimensionally stable from production to installation, and through years of use.



Sign•Foam4 delivers exceptional versatility and outstanding value as a creative medium for dimensional sign making, environmental graphics, 3-D displays and model making. Its tough-yet-microfine cell structure accommodates virtually any design, whether milled by machine, carved by hand, or sandblasted. It is easily worked with the simplest hand tools as well as sophisticated CAD/CAM routers and CNC machines.



Because Sign•Foam4 is strong, durable, completely waterproof, and does not warp, bow, crack, rot or decompose, it is well-suited to any indoor or outdoor application. Made in the United States, it is nontoxic and free of VOCs and CFCs. It is also eco-friendly, with a minimum 16 percent green content. Sign•Foam4 is available in 15- and 18-pound densities through Sign•Arts' network of distributors, who also offer a full line of companion products.



"At Sign•Arts Products, we're here to support the imagination, craftsmanship and success of 3-D sign makers and designers of dimensional displays," said Scienski. "That's why we've sourced the absolute best HDU foam board for the money–Sign•Foam4."



Sign•Arts Products Corporation – Distribution in the United States and Canada

Based in Laguna Hills, California, Sign•Arts Products Corp. is the exclusive U.S and Canadian distributor for Sign•Foam®, the premier high-density urethane (HDU) substrate for dimensional signage, environmental displays, models and prototypes. Sign•Arts connects 3-D sign makers and designers of dimensional displays with Sign• Foam and a full line of companion products through its extensive network of distributors. Visit www.signfoam.com



General Plastics Manufacturing Company – International distribution

Tacoma, Washington-based General Plastics has been a leading innovator in the plastics industry for more than 70 years. The company develops and manufactures rigid and flexible polyurethane foam products, which include its signature LAST-A-FOAM® brand series and build-to-print composite parts. LAST-A-FOAM® FR-4500 sign-industry products are distributed internationally under the name Sign-Block by General Plastics. General Plastics is certified to ISO 9001:2008/AS9100C and meets such demanding quality systems as NQA-1, Mil-I-45208A and Boeing Company D6-82479. Visit www.generalplastics.com.



Media Contact:

Ed Stan

Marketing Director

General Plastics Mfg. Co.

253-330-7782

ed_stan@generalplastics.com

More from Mounting & Attaching Products