Handheld Ultrasonic Flaw Detector weighs 2.12 lb.
Press Release Summary: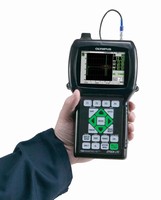 Capable of withstanding wide range of weather conditions and difficult inspection environments, EPOCH LTC comes in IP67-rated sealed case. EN 12668-1 compliant digital ultrasonic flaw detector features square wave pulser, selectable digital filtering, 1-110 dB gain range, peak memory, 0.001 in. measurement resolution, one gate with programmable alarm, and multicolor transflective LCD with full VGA resolution that offers readability from bright sun light to complete darkness.
---
Original Press Release:

Olympus NDT Introduces the EPOCH LTC Handheld Ultrasonic Flaw Detector



Waltham, MA, November 1, 2007 - Olympus NDT, a world leader in nondestructive testing technologies, announces the introduction of the new EPOCH LTC digital ultrasonic flaw detector. Weighing only 2.12 lbs (0.96 kg), this handheld, sophisticated instrument is now the smallest in its line of EPOCH flaw detectors. The rugged EPOCH LTC is built for use in a wide range of weather conditions and difficult inspection environments. Its sealed case meets IP67 requirements to withstand the rigors of very wet or dusty environments while the multi-color transflective LCD with full VGA resolution provides superior readability from bright sun light to complete darkness. The unit also features a simple keypad that allows full control from the left or right hand for direct access to all important functions.

The EPOCH LTC provides powerful standard measurement features and specialized software options to find internal defects in a variety of materials. The instrument is EN 12668-1 compliant and features a square wave pulser, selectable digital filtering, gain range from 1 to 110 dB, peak memory, 0.001 inch (0.01 mm) measurement resolution, and one gate with programmable alarm. Dynamic DAC/TVG software is standard with the EPOCH LTC and application specific software options include DGS/AVG flaw sizing, Manual PRF Control, Extended Range, Tunable Square Wave Pulser, Curved Surface Correction, and AWS D1.1 / D1.5.

The EPOCH LTC provides internal storage of inspection data of 50,000 IDs with waveform and measurement parameters while a Mini SD card slot provides additional storage. Its on-board On-the-GO USB port facilitates fast transfer of data and the VGA output allows viewing of the waveform display on remote computer or projector screens.

"Because its design is based on the highly advanced EPOCH XT flaw detector, the EPOCH LTC offers several sophisticated standard measurement features and options. What is remarkable though is that all these inspection capabilities are housed in a compact and very rugged case," says Erich Henjes, Product Manager for portable flaw detectors at Olympus NDT.

The EPOCH LTC is available in stock for immediate delivery. Standard inclusions are AC Adaptor, Transport Case, Hand Strap, Lithium Ion Rechargeable Battery, and One-Year Warranty.

About Olympus NDT

Olympus NDT provides an industry-leading portfolio of NDT solutions featuring innovative ultrasonic testing (UT), eddy current (ET), and related nondestructive testing technologies. Our goal is to supply reliable and economical inspection and maintenance systems globally that enhance environmental and personal safety, security, and productivity for customers, and that also contribute to society. We are committed to actively pursuing the development of new technologies, products, and services offering the best solutions to a large variety of customers' needs.

The Olympus NDT head office is located in Waltham, Massachusetts, USA. The company is represented by an extensive network of branch offices and representatives in all the major industrial regions of the world.

Contact Name:

Meindert Anderson
Title: Marketing Communications Manager
E-mail: info@olympusNDT.com