Handheld Oscilloscope can replay last 100 screens.
Press Release Summary: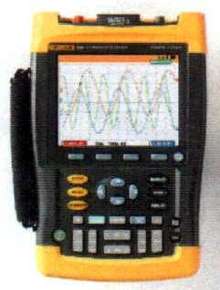 ScopeMeter® Series 190B includes models with 200, 100, and 60 MHz bandwidth and sample rates to 2.5 GS/s. Unit offers monochrome display with 12 horizontal divisions and 1,200 points of acquisition memory. With color display, Series 190C offers bandwidth of 200 or 100 MHz and includes same functionality/performance of 190B. Automatic Pass/Fail testing enables comparison of unknown waveform with known good waveform. Each series has 3 independently floating isolated inputs.
---
Original Press Release:
Fluke Introduces New ScopeMeter® 190B and 190C Series Test Tools

Faster update rate, larger screen and time windows added

EVERETT, WA - Fluke Corporation, a world leader in compact, professional electronic test tools, today introduced the ScopeMeter® 190B and upgraded 190C Series of handheld oscilloscopes. With up to 200 MHz bandwidth. 2.5 GS/s real-time sampling, deep memory of 27,500 points per input for paperless recording and replay of the last 100 screens, the portable oscilloscopes are ideal for service professionals, electronic engineers and technicians who need the full capabilities of a high-performance scope in a handheld, battery-powered instrument.

The 190B Series features five models with 200 MHz, 100 MHz and 60 MHz bandwidth with sample rates up to 2.5 GS/s for capturing the high frequency signals found in today's state-of-the-art electronics. The 190B models all have the same advanced functionality allowing the user to choose a model that suites his needs without having to pay for unneeded bandwidth. Each model features a large, bright, high resolution monochrome display with 12 horizontal divisions and 1200 points of acquisition memory. Using latest technology, Fluke's design engineers increased the 190B ScopeMeter waveform update rate five-fold to that of the previous 190 Series improving the analysis capability of dynamic waveforms. To make troubleshooting even simpler a known good waveform can be stored for later recall as a reference for visual comparison to an unknown waveform.

The 190C Color ScopeMeter with bandwidth of 200 MHz or 100 MHz includes the same functionality and performance of the "B" series but has been upgraded with additional features and performance improvements. The color display and Digital Persistence mode makes it possible to analyze complex, dynamic signals with ease just like that of an analog oscilloscope. The waveform reference mode for visual waveform comparison has been extended with automatic Pass/Fail testing. An unknown waveform can be compared to a known good waveform with predefined limits, automatically determining if it's within (Pass) or outside (Fail) the limits.

The 190B and 190C ScopeMeter with monochrome or color display and advanced Connect-and-View triggering capabilities are ideal for fast and easy checking of multiple test points. Each has three independently floating isolated inputs safety certified for measurements in 1000 V CAT II and 600 V CAT III environments.

Product and Ordering Information

The Fluke ScopeMeter 190B or 190C comes with a full warranty and is now available from Fluke distributors and representatives worldwide. The U.S. list price ranges from $1,995 for the ScopeMeter 192B to $2,995 for the ScopeMeter 199C.

Fluke Corporation

For more information on the Fluke ScopeMeter 190B Series or to find the location of the nearest distributor, contact Fluke Corporation, P.O. Box 9090, Everett, WA USA 98206, call (888) 492-7542, fax (425) 446-5116, or e-mail fluke-info@fluke.com.

About Fluke

Fluke Corporation is the leader in compact, professional electronic test tools. Fluke products are used by technicians and engineers in service, installation, maintenance, manufacturing test and quality functions in a variety of industries throughout the world.
More from Fluid & Gas Flow Equipment