Handheld Oscilloscope achieves 500 MHz at 5 GSPS sample rate.
Press Release Summary: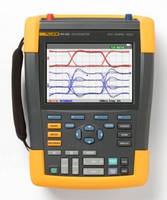 Intended for electronic troubleshooters, Fluke® 190 Series II 500 MHz ScopeMeter® Test Tool delivers scope with bandwidth and resolution to capture any signal while in field. Two-channel 190-502 model, with bandwidth from 60, 100, 200, and 500 MHz, supports 5 GSPS sample rate for accuracy and clarity of shape and amplitude of unknown waveform phenomena. ScopeRecord™, TrendPlot™, advanced triggering, and automatic measurements functions are included.
---
Original Press Release:

New Fluke 190 Series II ScopeMeter® Test Tool is First Handheld Oscilloscope to Achieve 500 MHz at 5 Giga-Samples-Per-Second Sample Rate



EVERETT, Wash. -- Fluke Corp. introduces the Fluke® 190 Series II 500 MHz ScopeMeter® Test Tool, the first to achieve a 500 MHz at 5 GS/s real time sample rate in a handheld, sealed, rugged oscilloscope, without compromising on safety rating, ruggedness or battery operating time. Now professional electronic troubleshooters have a high-performance scope with the bandwidth and resolution to capture virtually any signal while in the field.



The two-channel 190-502 model is the latest in the 190 Series II with bandwidth from 60, 100, 200, -- and now 500 -- MHz.



High-tech electronics in today's medical, communications, navigation and military devices routinely operate at high speeds requiring higher bandwidth. In order to correctly display at least the fifth harmonic component of a signal requires a scope with a bandwidth of at least five times the maximum clock rate of the device under test. The 5 GS/s -- or 200 pico seconds -- sample rate of the Fluke 190-502 provides greater accuracy and clarity of shape and amplitude of unknown waveform phenomena like transients, induced noise and ringing or reflections.



The rugged 190 Series II ScopeMeter(®) test tools include innovative functions like ScopeRecord(TM), TrendPlot(TM), advanced triggering and automatic measurements functions you would expect to find in high performance scopes. The 190 Series II safety rating according to IEC 61010 standard is 1000 V CAT III/ 600 V CAT IV making it possible to safely measure from mV to 1000 V.



Pricing and Availability

The Fluke 190-502 ScopeMeter(®) Test Tool is available now at U.S. list price of $4,690. For more information, visit: www.fluke.com/190II.



For information on Fluke tools and applications, or to find the location of your nearest distributor, call (800) 44-FLUKE (800-443-5853), e-mail fluke-info@fluke.com or visit the Fluke Web site at www.fluke.com.



About Fluke

Founded in 1948, Fluke Corporation is the world leader in compact, professional electronic test tools. Fluke customers are technicians, engineers, electricians, and metrologists who install, troubleshoot and manage industrial, electrical and electronic equipment and calibration processes.



Follow Fluke on Facebook, Twitter, YouTube or LinkedIn.



Fluke is a registered trademark of Fluke Corporation. The names of actual companies and products mentioned herein may be the trademarks of their respective owners. For more information, visit the Fluke website.



For more information:

Leah Friberg

Public Relations Manager

(425) 446-5905

leah.friberg@fluke.com

More from Optics & Photonics