Handheld Digital Multimeter incorporates OLED display.
Press Release Summary: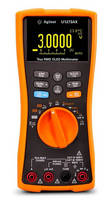 Operating from -40 to +55°C without requiring any warm-up time, IP54 water- and dust-resistant U1273AX offers 4 ½-digit resolution via OLED display with 2,000:1 contrast ratio and 160° viewing angle. Low-impedance mode reduces ghost voltages from capacitive coupling, and low-pass filter eliminates switching noise from motor-drive measurements. Carrying CAT IV/600 V safety rating, instrument suits demanding industrial and electrical applications.
---
Original Press Release:

Agilent Technologies Introduces Handheld Digital Multimeter Designed for Extreme Winter Weather



Agilent Technologies Inc. (NYSE: A) today announced the U1273AX OLED handheld digital multimeter, which can operate in temperatures as low as -40 C. Even in such frigid conditions, the new handheld DMM provides accurate results with no warm-up time required.



Although the Agilent U1273AX excels in the wintertime, it remains useful throughout the year with an operating temperature range that extends up to 55 C. Coupling this range with IP54 water and dust resistance, plus a CAT IV/600 V safety rating, creates a robust tool that will help users keep their operations running smoothly in demanding industrial and electrical applications.



When paired with the U1583B AC current clamp, the U1273AX supports current measurements without breaking the circuit under test. The U1583B also functions down to -40 C.



"Now, field engineers and technicians working in harsh winter conditions can make measurements immediately and with full confidence," said Ee Huei Sin, vice president and general manager of Agilent's Basic Instruments Division. "We're proud to offer a unique new handheld that leverages the innovations built into the existing U1270 Series."



The U1273AX presents 41/2-digit resolution on an OLED display that provides crystal-clear readings with a 2000-to-1 contrast ratio and 160-degree viewing angle. Advanced capabilities include a low-impedance mode that reduces ghost voltages from capacitive coupling, and a low-pass filter that eliminates switching noise from motor-drive measurements.



For wireless connectivity to smartphones and tablets, the U1273AX is compatible with the innovative U1177A infrared-to-Bluetooth adapter and the associated remote-monitoring programs that support Agilent's entire line of handheld DMMs. This unique capability enables use of an Android device to wirelessly monitor and control the U1273AX from the warmth and safety of a nearby vehicle or structure.



U.S. Pricing and Availability



The U1273AX handheld DMM is available now at a list price of $450.



Information about the U1273AX is available at www.agilent.com/find/U1273AX-pr . Images are available at www.agilent.com/find/U1273AX_images.



A product video is available at www.agilent.com/find/U1273AX_video.



About Agilent Technologies

Agilent Technologies Inc. (NYSE: A) is the world's premier measurement company and a technology leader in chemical analysis, life sciences, diagnostics, electronics and communications. The company's 20,000 employees serve customers in more than 100 countries. Agilent had net revenues of $6.6 billion in fiscal 2011. Information about Agilent is available at www.agilent.com.



Bluetooth is a trademark owned by Bluetooth SIG, Inc., USA and licensed to Agilent Technologies Inc.



Contact:



Janet Smith, Americas

+1 970 679 5397

janet_smith@agilent.com

More from Software