Electrical / Electronic Probes
Handheld Current Probes operate up to 1.5 MHz.
Press Release Summary: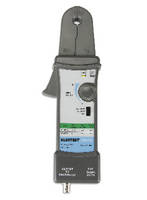 Comprising 4 models, ELDITEST CP6000 Series offers current capabilities of 100, 50, 70, and 40 A with operating bandwidth of 300 kHz, 500 kHz, 1 MHz, and 1.5 MHz, respectively. AC/DC oscilloscope clamp-on probes feature dual range selectivity, over-range indicator, and power adapter or battery power for portable use. Power adapter is available with North American or European Union connectors.
---
Original Press Release:

Cal Test Electronics Introduces the Highest Frequency Handheld Current Probes Available



Yorba Linda, CA — Cal Test Electronics today introduced the new CP6000 Series, a four-model family of ELDITEST AC/DC oscilloscope clamp on current probes with the highest frequency range available on the market.



The CP6000 family features:

Operating bandwidth ranging up to 1.5 MHz

Dual-range selectivity

Over-range indicator

Current capability ranging up to 100 A

Compact, stylish body

Power adapter or battery power for portable usage

Power adapter is available with either North American (NA) or European Union (EU) connectors.



Along with the current probes, kits include an insulated BNC cable assembly for scope connection, BNC to banana plug adapter, selected region power adapter and user manual.



Specifications:









Models






Current (DC + peak AC)






Bandwith






Max Voltage






Max Cable Diameter






List Price






CP6220-NA
CP6220-EU





100 A


 





300 kHz


 





600 VAC RMS CAT II


 





11 mm (0.43")


 





$346.80






 





CP6550-NA
CP6550-EU





50 A


 





500 KHz


 





600 VAC RMS CAT II


 





11 mm (0.43")


 





$448.80






 





CP6770-NA
CP6770-EU





70 A






1 MHz


 





300 VAC RMS CAT III


 





10.3 mm (0.4")


 





$714.00






 





CP6990-NA
CP6990-EU





40 A


 





1.5 MHz


 





300 VAC RMS CAT III


 





10.3 mm (0.4")


 





$816.00


 







The series is marketed under the time-honored ELDITEST brand name in both North America and the European Union.



For additional technical product information, cross-reference, or other accessories, visit our website at: caltestelectronics.com



About Cal Test Electronics

Since 1995, Cal Test Electronics has been serving the electronic and electrical markets with an extensive line of quality test accessories and a commitment to total customer service. Offering the most comprehensive lines of test accessories, with over 3,000 items in 5 product categories, there is almost no test accessory challenge Cal Test cannot meet. If your requirement is for a custom component or kit, Cal Test currently supplies custom assemblies and kits to several of the largest instrument manufacturers in the world. We want to be your accessory supplier of choice.



Contact:

Marco A. León

mleon@caltestelectronics.com

888-256-2246

Related