Hand-Held Event Timer synchronizes with GPS timing.
Press Release Summary: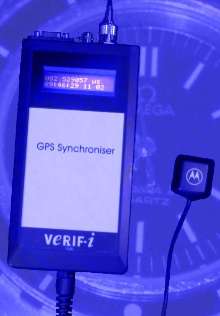 GPS Synchroniser units connect to equipment that provides logic output in order to give time stamp to events using GPS timing as reference. Units can be used individually to derive absolute independent event time or in groups to compare timing of different remote events. Products feature backlit display and store results in 512 last in/first out non-volatile buffer that can then be read out using RS-232 serial cable. Time resolution is 1 microsecond, and accuracy is ±2 microseconds.
---
Original Press Release:
Hand Held Event Timer Using GPS

The hand held GPS Synchroniser units are connected to any equipment such that provides a logic output to provide a time stamp of events that occur using GPS timing as the reference.

The units can either be used on their own to derive an absolute independent event time or multiple units can be used to compare timing of different remote events.

The time of each event is displayed on a backlit display and stored in a 512 last in/first out non-volatile buffer. This can then be read out using an RS-232 serial cable.

Details

The time resolution of GPS Synchroniser is 1 microsecond and the accuracy is ±2 microseconds.

The GPS time is recorded is one second ahead of the real event time. If the non-volatle memory is full then the earliest time stamp is dropped to allow the new data to be written.

Specifications

Timing Resolution: 1 microsecond

Timing accuracy: ±2 microseconds

1 MHz clock accuracy: 1 ppm

Input connector: BNC

Input circuit: opto-isolated

GPS connector: TNC

Output connector: 9 pin D type RS-232

Output: RS-232 9600 Baud 8 bit, no parity, 1 stop bit, no flow control

Display: Transflective electroluminescent 2 line 20 character

Size: 8" high, 3" wide, 1.5" deep

Weight: 400 g

Power supply: 12 Volts 100 mA 3 metre cable
More from Electronic Components & Devices