Hand Benders can be used in air or on floor.
Press Release Summary: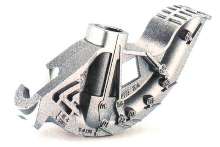 Made of heat-treated aluminum, BIG BEN(TM) hand benders incorporate dual sight-line system that allows bending on floor or in air. They include highlighted Benfield(TM) markings and are available in sizes of ½, ¾, and 1 in. Other features include Vise-Mate(TM) conduit vise; bend-back channel that corrects over-bends; Benfield-style, 30° bend when handle is straight up; sight-down arrows; and sight-across marks.
---
Original Press Release:

Gardner Bender's New Big Ben(TM) Series Hand Benders Incorporate Many Improvements


MILWAUKEE (JANUARY 2004) - Gardner Bender got its start when entrepreneur Jim Gardner pioneered better ways of bending conduit. Steady improvements have kept his invention up-to-date, and now Gardner Bender is pleased to introduce a new series of BIG BEN(TM) hand benders.

GB marketing and engineering personnel visited job sites and surveyed hundreds of contractors to create this new BIG BEN(TM) series. In response to what end users identified as their key needs and wants, GB's design team beefed up several areas of the traditional hand bender to increase durability and improve functionality.

Major refinements include enlarging the hook and giving it a five times greater durability factor; enlarging the foot pedal size by 40% and increasing clearance; highlighting markings; and incorporating a dual sight-line system that allows bending on the floor or in the air.

GB's new BIG BEN(TM) series benders are made of rugged, heat-treated aluminum; feature industry-standard Benfield(TM) markings to improve usability and simplify work; and are available in the most common sizes of 1/2", 3/4", and 1". Each comes with a lifetime warranty.

Other features include the Vise-Mate(TM) conduit vise, which holds conduit when cutting or reaming; a bend-back channel that easily corrects over-bends; a Benfield-style, 30°-bend when the handle is straight up; more foot room so users can operate Big Ben(TM) benders while wearing work boots; sight-down arrows for bending on the floor; and sight-across marks for bending in the air.

GB has designed and manufactured conduit benders for the professional electrician for more than 40 years. From the original, aluminum hand benders with bubble vials to the work horse Ultra Eegor(TM), GB has led the way in conduit bending and now offers a full line of products that give customers the ability to bend virtually any type of conduit-including EMT, IMC, Rigid, and PVC-for virtually any electrical application.

New BIG BEN(TM) series aluminum hand benders are bigger, bolder, and better and continue Gardner Bender's leadership role in conduit bending.

For over 40 years, Gardner Bender has been designing, manufacturing and marketing professional electrical tools and accessories. For more information on Gardner Bender's complete line of products, contact Gardner Bender at 800-822-9220, fax 414-352-2377; and in Canada call 800-268-4987, fax 800-461-2456 or visit the website at www.gardnerbender.com.

More from Electronic Components & Devices