Hammer Mill reduces friable and fibrous materials.
Press Release Summary: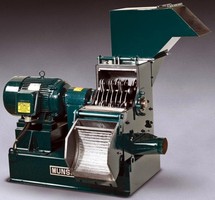 Utilizing centrifugal force, Model 141 reduces materials into uniform particle sizes from 20-300 mesh. Shaft, integral hammer discs, disc pins, and hammers are driven by 75 hp motor at 1,800-4,000 rpm, achieving hammer tip speeds from 8,700-19,500 fpm. Particle size is determined by size of screen perforations. In addition to lower 180° cylinder screen, unit features 90° screen located in hinged section of top case, providing total screen area of 270°.
---
Original Press Release:

Hammer Mill Reduces Friable, Fibrous Materials



UTICA, NY - A new Hammer Mill Model 141 from Munson Machinery reduces friable and fibrous materials into uniform particle sizes ranging from 20 to 300 mesh.

Centrifugal force causes pivoting hammers to stand at 90° to the rotating shaft, throwing material against breaker plate ridges in the feed section, and then against perforated bed screens through which sized material exits.

The shaft, integral hammer discs, disc pins and hammers are driven by a 75 hp (56 kw) motor at 1800 to 4000 RPM, achieving hammer tip speeds of 8,700 to 19,500 ft/min (2,650 to 5,950 m/min) even under heavy loads, reducing a broad variety of solid material into particles at high rates.

The mill can pulverize wood scraps, process grain, break-down impact resistant housings, destroy ammunition shells, pulverize newspaper, separate rubber from cord fiber, and reduce the size of a variety of other chemical, plastic, rubber and agricultural products.

Particle size is determined by the size of the screen perforations. In addition to a lower 180° cylinder screen, the Munson unit features an extra 90° screen located in the hinged section of top case, increasing screen area by 50% to a total of 270°, utilizing the entire area of the case.

The lower screen is secured by a quick release mechanism, providing a dust-tight fit and allowing rapid screen changes.

Hammer discs, which are spaced evenly along the alloy steel shaft, retain the hardened steel hammer pins. All corners of the hammers are stepped, allowing four edges to be utilized. A removable ring allows rapid pin changes.

The steel fabricated, 3/4 in (19 mm) thick mill case provides the requisite stiffness, alignment and durability to withstand the extreme impact and high loads associated with the most demanding applications. The feed intake welded to the upper portion of the case is also bolted to the lower portion, resulting in a high-integrity connection between the feeding or loading hopper and the mill intake.

Dust-tight and watertight, the unit is configured with a hinged top section and gasketted, single-latch door providing rapid access for cleaning and maintenance.

Other size reduction equipment manufactured by the company includes screen classifying cutters, shredders, rotary de-lumping equipment, knife cutters, centrifugal impact mills and attrition mills. Mixing equipment offered includes ribbon blenders, rotary batch mixers, rotary continuous blenders and high intensity continuous blenders.

For information contact Munson Machinery Company, Inc., 210 Seward Ave., Utica, NY 13503-0855, 800-944-6644, info@munsonmachinery.com, www.munsonmachinery.com

More from Software