Grounding Device converts non-ESD footwear to ESD footwear.
Press Release Summary: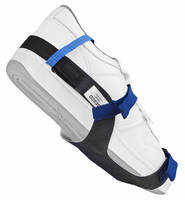 Used with normal footwear, Sole Grounder with Snap-Loc fastening system provides ESD control. Surface area is maximized for contact with floor, and tab-to-cup resistance is 1 x 10
6
to < 1 x 10
8
 Ω. Along with tear-resistant nylon reinforcement, features include 30 in. long, 8 conductive strand nylon polyester grounding tab and 2 megohm series resistor. UL-listed product meets ANSI/ESD S20.20 <100 V peak body voltage requirement and offers point-to-groundable point resistance of <1 x 10
9
Ω.
---
Original Press Release:

Desco Introduces New Snap-Loc Sole Grounder



Canton, MA – Desco has introduced the new Snap-Loc Sole Grounder for ESD control in conjunction with normal footwear.



The new Desco Sole Grounder with Snap-Loc fastening system features a larger surface area for contact with the floor than standard foot grounders.  It has a tab-to-cup resistance of 1 x 106 to < 1 x 108 ohms and is reinforced with tear resistant nylon to prevent the rubber from tearing. It also features a 30" long, 8 conductive strand nylon polyester grounding tab and a two megohm series resistor. The sole grounder is UL listed and available in five sizes: X-Small through X-Large to accommodate both men and women.



• Sole Grounder with Large Contact Area

Converts non-ESD footwear to ESD footwear; choice for when handling more sensitive devices (Human Body Model Class 0A)*



• Walking Voltage Generation <50 Volts Tested per ANSI/ESD STM97.2

Easily meets the ANSI/ESD S20.20 < 100 volt peak body voltage requirement for use as an ESD footwear component in personnel grounding footwear / flooring system.



• Point-to-Groundable Point Resistance < 1 x 109 ohms

Meets ANSI/ESD S20.20 required limit tested per ANSI/ESD STM97.1, ESD SP9.2, and ESD TR53



• Tear and Chemical Resistant Thermoplastic Elastomer (TPE) Material

Increases the service life of foot grounder.



• Non-Marring Material

Will not leave marks on floors (or operator's shoes); reducing maintenance costs of touching up on floors.



• Conductive 30" Long Polyester Grounding Tab

Additional conductive material provides reliable connection with operator's sweat-layer.



• UL Listed and Date Coded



• Made in the United States of America



This item is stocked in Canton, MA



Snap-Loc Sole Grounders are available in five sizes:

17239 - XSmall

17240 - Small

17241 - Medium

17242 - Large

17243 - XLarge



*Foot grounders must be used with an ESD floor (recommend conductive flooring < 1 x 106 ohms) to create a path-to-ground and minimize charge generation



Please contact Service@Desco.com for more information.



About Desco: Desco manufactures ESD control products used in the electronics production industry. Desco has six manufacturing locations in the USA. Products made by Desco include wrist straps, foot grounders, work surface mats, shielding bags, floor finish, floor mats, ionization, smocks, continuous monitors and ESD audit equipment. Desco's products are available through distributors, resellers, and direct. A network of manufacturer representatives offers sales and technical support in most US states, Mexico, and Canada.



For additional information email Service@Desco.com or visit Desco.com



Contact: Matt Hempel 909-627-8178

More from Packaging Products & Equipment