Gripper Components handle large and heavy assemblies.
Press Release Summary: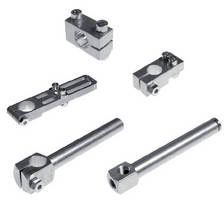 Available with 30 mm clamp diameter, Gripper Components are compatible with commercially available extrusion systems. Angle and cross clamps come in different weight classes and can be used in gripper systems designed for loads above and below 5 kg. Slot holes of universal angular clamps ensure compatibility to extrusion systems having 20-30 mm spacing. In case of rigid angle clamps, Allen key/hexagonal head screw ensures secure connection of clamps with other components within gripper.
---
Original Press Release:

New Gripper Components for Large and Heavy Components & Assemblies



Compatible with all commercially available extrusion systems in the market / 30 millimeters / ease of mounting and installation

30 millimeter clamp diameter: FIPA Inc. (www.fipa.com) has supplemented its range of gripper components with this new size - this includes angular and cross clamps, angle arms and suction fingers. The new connectors of the material flow experts from Atlanta, Georgia are particularly suitable for gripper systems that need to handle large and heavy components or assemblies.

Maximum compatibility

While developing the new gripper components, the designers at FIPA have taken great care to ensure that they are not merely compatible with all FIPA components, but also with the extrusion systems and components of other manufacturers, which are used frequently in gripper technology. This applies to the clamps of 30 mm diameter as well as to the angle arms and suction fingers.

New size plus other benefits:

o The angle and cross clamps are available in different weight classes for the FIPA extrusion systems, Sline, MLine and XLine. Hence, they can be used in gripper systems that are designed for loads both above and below five kilograms.

o The slot holes of the universal angular clamps ensure compatibility to extrusion systems having spacing of 20 to 30 millimeters.

o The large adjustment range of the adjustable angular clamps guarantees the maximum possible flexibility while positioning the gripper components.

o In the case of rigid angle clamps, an Allen key / hexagonal head screw ensures secure connection of clamps with other components within a compact gripper.

Gripper technology customized to your needs

FIPA responds to the growing demand in the market for the 30 mm size by introducing its new components designed in this size. At the same time, we have supplemented our portfolio in gripper assembling with light-weight products having simple design, which can be replaced in a flexible manner.

In line with the FIPA philosophy of the modular construction kit principle: Many separate components that fit one another - depending on the kind of gripper system that is required


More from Electronic Components & Devices