Grinding Wheels have open structure for cooler operation.
Press Release Summary: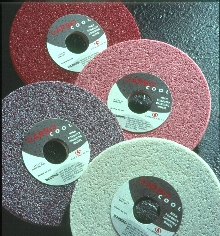 CarboCool(TM) controlled-porosity grinding wheels allow high metal removal rates. Greater chip clearance decreases possibility of wheel loading. During wet grinding, open-structure allows greater coolant flow to interface between wheel and work piece, reducing temperature at point of contact. Wheels are available in White 38A, Pink 25A, Ruby 48A, and Purple 3SGR; and in 3 standard shapes: Type 1, Straight; Type 5, Recessed 1 Side; and Type 7, Recessed 2 Sides.
---
Original Press Release:
New Controlled Porosity Open Structure Toolroom Wheels From Carborundum Abrasives
WORCESTER, Mass., March 5, 2002 -- Announcing Carborundum CarboCool(TM)-a new line of controlled porosity open structured grinding wheels that grind cooler allowing higher metal removal rates in both wet and dry grinding applications. In both wet and dry grinding conditions, the specially developed uniformly open structure of the CarboCool wheel creates greater chip clearance thereby decreasing the possibility of wheel loading. As a result, operators can dress wheels less often, grind more parts per wheel, and reduce the total number of wheels used while generating superior tool and cutter geometry. During the wet grinding process, the controlled porosity open structure of the new Carborundum wheels offers the additional advantage of allowing greater coolant flow to the interface between the wheel and the work piece. Greater coolant flow results in significantly reduced temperature at the point of contact. The combination of less heat and greater chip clearance allows toolroom operators to increase infeed rates without burning the work piece surface or reducing wheel life. To further extend wheel life, CarboCool wheels utilize a bond formulated with durable bond posts maximizing the bond's ability to retain abrasive grains. New CarboCool wheels are available in four abrasive types: White 38A, Pink 25A, Ruby 48A and Purple 3SGR; and three standard shapes: Type 1, Straight; Type 5, Recessed 1 Side; and Type 7, Recessed 2 Sides. Carborundum Abrasives is a brand of Saint-Gobain Abrasives, a division of Saint-Gobain. Saint-Gobain, one of the top 100 industrial companies in the world, is a leading producer of abrasives, building materials, flat glass, insulation, reinforcements, packaging, pipe, ceramics and plastics. Headquartered in Paris, Saint-Gobain's annual sales approximate $27 billion. The company has 170,000 employees in 45 countries. In the U.S. and Canada, Saint-Gobain employs 28,000 people, and has about 200 manufacturing locations. Its total U.S. and Canada sales in 2001 were $6.4 billion. Saint-Gobain's web site is www.saint-gobain.com. The Carborundum web site is www.carborundumabrasives.com.
More from Agricultural & Farming Products