Grinding Wheels feature micro fracturing abrasive.
Press Release Summary: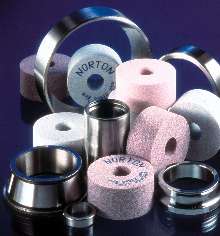 BRGi vitrified grinding wheels with XG low-pressure abrasive grain, are used for internal diameter and bore grinding. Friable seeded-gel ceramic grain is developed specifically to micro fracture in low-pressure applications, exposing new sharp cutting teeth during grinding process. Grinding wheels are offered in diameters of .204 to 4.500 in., with thickness of .063 to 4.00 in., and grit sizes of 46 to 150.
---
Original Press Release:
Norton Abrasives to Exhibit Precision Vitrified Grinding Wheels with Advanced XG Grain at IMTS

-- Micro Fracturing Abrasive Generates Greater Productivity and Superior Finishes in Internal Race and Bore Grinding -

Worcester, Mass., June 12, 2002 -- Norton Abrasives will exhibit their BRGi vitrified grinding wheels with XG, low-pressure abrasive grain, at the IMTS show in September. These precision wheels are designed for internal diameter and bore grinding.

The ideal abrasive will continually fracture and expose new sharp cutting teeth during the grinding process. Conventional abrasive types are too durable for the low pressure, high contact grinding of internal race and bore grinding. Abrasive that is too durable requires greater power draw and creates excessive heat that is harmful to the part and overall integrity.

Due to the high contact between the grinding wheel and the work piece, internal race and bore grinding generates low pressure in the grinding zone. The Norton BRGi wheels with XG abrasive is an advanced friable seeded-gel ceramic grain developed specifically to micro fracture in low-pressure applications.

The new XG micro fracturing abrasive grain in Norton BRGi wheels stays sharp longer, grinds with less power draw, generates less heat and reduces overall wheel wear. In test run in bearing manufacturing plants, Norton BRGi wheels produced over two times more parts per wheel with tighter tolerances and greater overall integrity, with less down time for wheel truing and dressing.

Norton BRGi wheels are available in diameters of .204-4.500 inches, thickness of .063-4.000 inches and grit sizes of 46-150 (46 grit only available over .312 diameters).

For more information on Norton BRGi wheels contact Barry Cole, Manager of Advertising and Public Relations, Saint-Gobain Abrasives, One New Bond Street, Box 15008, Worcester MA 01615-0008. (508) 795-5709 or Barry.D.Cole@saint-gobain.com.

Norton is a brand of Saint-Gobain Abrasives, a division of Saint-Gobain. Saint-Gobain, one of the top 100 industrial companies in the world, is a leading producer of abrasives, building materials, flat glass, insulation, reinforcements, packaging, pipe, ceramics and plastics. Headquartered in Paris, Saint-Gobain's annual sales approximate $27 billion. The company has 170,000 employees in 45 countries. In the U.S. and Canada, Saint-Gobain employs 28,000 people, and has about 200 manufacturing locations. Its total U.S. and Canada sales in 2001 were $6.4 billion. Saint-Gobain's web site is www.saint-gobain.com. The Norton web site is www.nortonabrasives.com.

Contact

Barry Cole

Saint-Gobain Abrasives

508-795-5709

Barry.D.Cole@saint-gobain.com

Barbara Wellnitz

Ryan Wellnitz & Associates

508-698-3374

bwellnitz@ryanwellnitz.com
More from Agricultural & Farming Products