Grinding Wheel combines zirconia with aluminum oxide.
Press Release Summary: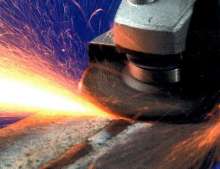 Series ZA24R SG-PLUS® is offered in 5 sizes from 4-9 in. in diameter with .28 in. thickness. Blended-grain formula produces softer wheel that eliminates chatter and vibration common with hard wheels. Quick-change and threaded-hub styles are available for use on right-angle grinders.
---
Original Press Release:

Pferd Introduces the ZA24R SG-Plus® Grinding Wheel Line


May 25, 2004 - Leominster, M4 - PFERD INC. announces a brand new product line that combines the values of extra long service life, fast stock removal and economical pricing for high performance grinding work.

The new ZA24R SG-PLUS® line of grinding wheels offers a cost-effective alternative to high priced, high performance wheels in that users do not have to make compromises or choose from performance trade-offs. Made of a special grain formula that includes a percentage of Zirconia blended with Aluminum Oxide, it reduces the cost from pure Zirconia wheels dramatically yet still outperforms conventional Aluminum Oxide wheels two to one in grinding stainless and carbon steels. The long-life SG-PLUS® wheels have an aggressive, faster cutting action with fewer wheel changes needed. These features result in an excellent price-to-performance ratio. The blended grain formula also produces a softer wheel that eliminates chatter and vibration common with hard wheels. This means workers experience more comfortable, user-friendly grinding. Al these SG-PLUS® high performance advantages add up to the big benefits of lower operating costs and fewer application restrictions.

Offered in five sizes from 4" to 9" in diameter and with a generous .28" (7.2mm) thickness, all the new ZA24R SG-PLUS® wheels will be available immediately from local PFERD distributors in both quick-change and threaded hub styles for use on right angle grinders. A test sample may be requested by calling PFERD at 800-342-9015 or by e-mail at sales@pferd.com.

PFERD INC., headquartered in Leominster, MA, is a subsidiary of August Ruggeberg GmbH of Marienheide, Germany, a 205 year old world leader in the design and manufacture of quality abrasive hand tools and industrial brushes.

Contact:
Diane Scalley
Manager, Inside Sales
978-840-6420
978-840-6421 (fax)

Related