Grinder excels on parts with perpendicular features.
Press Release Summary: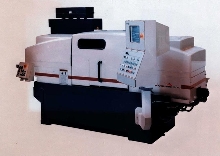 CBN compatible, Viking® angular centerless grinder uses angle-mounted regulating wheel and formed grinding wheel to simultaneously in-feed grind OD and flat surface of parts while maintaining sub-micron tolerances. Plunge-type diamond roll dresser accommodates 20 in. diameter grinding wheel. Construction includes nodular cast iron and epoxy granite base, twin-grip mounted wheels, and anti-friction spindle bearings. Optimized grind cycles can be saved.
---
Original Press Release:
New Viking Angular Centerless Grinder Excels on Parts with Perpendicular Features

Information on this new machine tool will be available during IMTS 2002 at UNOVA's booth A-8101, and at CITCO's booth E-2110.

Waynesboro, Penn., June 5, 2002 - A new Landis Cincinnati Viking® angular centerless grinder has been introduced by Landis Gardner to meet the requirements of production grinding of parts with critical perpendicular features. Using an angle-mounted regulating wheel and a formed grinding wheel, the new Viking machine is able to simultaneously in-feed grind the OD and flat surface of parts while maintaining sub-micron tolerances at high production rates.

The new Viking angular centerless grinder is ideal for grinding any cylindrical part with a perpendicular shoulder or end. It is especially suited to the needs of fuel systems manufacturers for high-production grinding of small injector parts with metering edges that have critical perpendicularity requirements. The Viking angular centerless enables precise speed control of the part, which is essential for holding extremely close tolerances with high throughput.

A new plunge-type diamond roll dresser for the grinding wheel has been developed in conjunction with the Viking angular centerless grinder. This optional dresser significantly reduces the time required to re-shape the wheel especially for intricately formed wheels used in tough materials such as hardened tool steel. CNC truing of both wheels is offered as standard to provide flexibility in dressing different shapes. The machine will accommodate a 20" diameter grinding wheel to provide longer wheel life.

According to company engineers, the Viking grinder's high stiffness and ease of set-up are unique advantages of the new angular centerless model. "With a rugged base of nodular cast iron and epoxy granite, the Viking boasts a best-in-its-class rating for static stiffness," said Gary Roeder, Centerless Product Manager. Twin-Grip mounted wheels and anti-friction spindle bearings deliver outstanding accuracy shift after shift. The Viking grinder is fully CBN compatible. Plus, the user-friendly PC-based control with pushbutton operator interface allows users to save optimized grind cycles to memory for fast, error-free setup.

Other customer-driven features include ergonomically correct control height, location, and readability, and environmentally sound mist and coolant containment.

The Viking is part of a comprehensive Landis Cincinnati centerless grinder product line including the RK, GC and SE Series machines. Complete specifications of the new Viking angular centerless grinder can be obtained by contacting Landis Gardner.

Landis Gardner, a member of the UNOVA family of companies, is a pioneer and world leader in the design and manufacture of precision cylindrical, centerless, and single- and double-disc grinding machines The company's Gardner Abrasives operations also designs and manufactures grinding and disc wheels. In addition, Landis Gardner's CITCO operation makes diamond and CBN (cubic boron nitride) grinding wheels, diamond dressing tools, and PCD (polycrystalline diamond) and PCBN (polycrystalline cubic boron nitride) cutting tools. Headquartered in Woodland Hills, California, UNOVA specializes in the design and integration of manufacturing systems, primarily for the global automotive and aerospace industries. The company is also a leading supplier of automated data collection and mobile computing systems for industrial, distribution and government markets.
More from Construction Equipment and Supplies