Green Concrete Sealers and Maintenance Formulas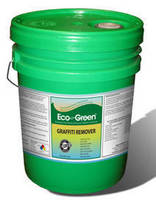 Daimer®'s new Eco-Green® cement products clean and protect porous stone surfaces in demanding environments.

Press Release Source: Daimer Industries, Inc.®

WOBURN, MA, U.S.A. - Daimer Industries Inc.®, known for earth-safe concrete sealers and stone maintenance formulations, has shipped three new Eco-Green® products for cement surfaces: Concrete Sealer, Graffiti Remover and Salt XTerminator® Concrete Protection Formula.

"Our new concrete sealers and maintainers will help buildings and grounds departments to maintain their cement structures with products that offer proven bio safety," noted Matthew Baratta, a Daimer.com cement formulations spokesman. "These Eco-Green® products apply the same chemical engineering used in all of our biodegradable formulations."

Green Concrete Sealers and Maintenance Preparations

Concrete Sealer creates an impenetrable coating that seals against staining and damage to porous concrete structures. The preparation applies concrete sealers capable of protecting: basement floors, roads and streets, parking lots, sidewalks, driveways, pavers, and other institutional structures.

Salt XTerminator® Concrete Protection Formula displaces salt and other corrosion producing deicing compounds from cements surfaces, most notably roads, bridges and parking structures. Removing salt protects the underlying steel reinforcement, thereby prolonging the life of costly structures.

Graffiti Remover lifts scrawlings created with paint, indelible marker, spray-on colorings, pen and more from cement and stone surfaces.

The maintenance formulations and concrete sealers are manufactured to offer maximum effectiveness while minimizing risk to humans and the environment. The preparations provide rapid, biodegradability in minimum time frames, often less than a month.

The graffiti cleaner and cement sealer are concentrated to produce at least 3 gallons of diluted preparation from each gallon, depending on the product Daimer® offers the products in five or so sizes.

Other Stone Solutions

Beyond the new cement cleaners and concrete sealers, Daimer® offers a broad line of stone products composed of earth-friendly, plant-based ingredients.

For more information about Daimer®'s concrete sealers, mechanical floor scrubbers and industrial degreaser products for chemicals dealers, visit www.daimer.com/eco-green-chemicals/ or call Matthew Baratta at (888) 507-2220.

About Daimer Industries, Inc.®: Daimer®, www.daimer.com, is a major supplier and worldwide exporter of the cleaning industry's leading line of KleenJet® steam cleaners/vapor steam cleaners/steam cleaning equipment; Super Max(TM) commercial and industrial pressure washers, including cold water, hot water, and steam pressure washing machines; XTreme Power® floor cleaners, including carpet cleaners, hard surface cleaners, and floor buffers/scrubbers/burnishers; and the line of Micro-Blasting® Eco-Green® environmentally friendly cleaning products that employ unique technologies and a patented, proprietary chemistry.


More from Agricultural & Farming Products