Gravimetric Blender doses difficult bulk materials.
Press Release Summary: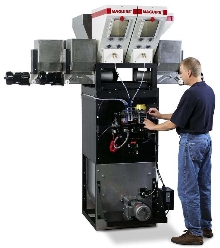 MaxiBatch(TM) Weigh Scale Blender utilizes microprocessor controller, automatically making corrections from batch to batch to maintain overall accuracy within ±0.1%. Able to give users fine control over ingredient consumption and batch consistency, machine accommodates 9 removable, interchangeable hoppers, each of which incorporates dispensing device for precise metering. Unit is rated for processing throughputs up to 8,000 lb/hr and has batch size of 66 lb.
---
Original Press Release:

Largest Maguire Blender Meters Up To 3,625 KG/HR and Precisely Doses Powders, Wood Flour, and Other 'Difficult' Bulk Materials


New MaxiBatch (TM) Weigh Scale Blender Is Designed for Compounders, High-Throughput Extrusion Processors, and Specialists in Plastics/Wood Composites

ASTON, PA, U.S.A., February 28, 2005: A super-sized gravimetric blender of innovative design enables plastics processors with very high-throughput production lines to obtain the economic and product-quality advantages of Maguire (R) Weigh Scale Blenders (WSBs) while precisely and efficiently dosing large quantities of hard-to-handle bulk powders like additives and wood flour, it was announced by Maguire Products, Inc.

The new MaxiBatch (TM) WSB is rated for processing throughputs of up to 3,625 kg (8,000 lb.) per hour and has a batch size of 30 kg (66 lb.), which is 60% and 67% greater, respectively, than the largest Maguire blender models until now, in the 1800 Series. The blender accommodates nine removable hoppers for as many ingredients, each hopper incorporating its own dispensing device designed for precise metering in large quantities. As in other Maguire WSBs, ingredients are dispensed sequentially into a weigh chamber; the batch then falls into a mixing chamber. The dispensing devices include vertical valves (for resin pellets and regrind) and auger feeders (for powders, granules, and pulverized materials). Because the hoppers are interchangeable, it is easy to accommodate variations in batch recipe, according to Peter Skulski, sales manager.

"The share of operating costs accounted for by raw materials typically increases with production throughputs, as does the likelihood that they will be using bulk powders and other difficult-to-meter ingredients," noted Skulski. "The MaxiBatch system enables companies with the greatest volumes to achieve the same exceedingly fine control over ingredient consumption and batch consistency that Maguire blenders have long made available to other processors."

This microprocessor controller on the MaxiBatch blender and other Maguire WSBs automatically makes small corrections from batch to batch, including adjustments to compensate for variations in extrusion rate or bulk density, maintaining overall batch accuracy to within + / - 0.1%, according to Skulski.

"In the case of costly additives, this level of precision eliminates such wasteful practices as over-coloring to compensate for process variations or for the unreliability of alternative feeding equipment," Skulski said. "In addition, because the blender doses colorants and additives in accordance with their weight as percentages of natural resin and automatically adjusts for the presence of these materials in regrind, it eliminates double-dosing. Even for a low-volume operation, the savings in colorant costs alone can yield payback on the cost of the blender in ten to twelve months; for high-throughput operations utilizing the new MaxiBatch blender, we expect the payback time will often be even shorter."

MAGUIRE PRODUCTS, INC., headquartered in Aston, Pennsylvania, U.S.A., is the world's largest supplier of gravimetric blenders and liquid color pumps and also manufactures loading systems, granulators, dryers, auger feeders, and related equipment and software. Its customers include injection, blow, and rotational molders, extrusion processors, and compounders. Founded in 1977, Maguire operates five manufacturing facilities in Aston and Smithfield, Rhode Island, U.S.A. The company maintains a network of distributors in the Americas and overseas and has two sales and service subsidiaries: Maguire Europe, which supports customers throughout Europe and operates a distribution center in Tamworth, Staffordshire, United Kingdom; and Singapore-based Maguire Asia, serves customers throughout South Asia and the Pacific Rim. Visit the Maguire Products web site: www.maguire.com