Motion Sensors / Detectors / Transducers
GPS-Based Sensor measures speed and position of vehicles.
Press Release Summary: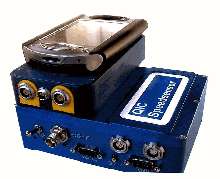 QIC-Speed Sensor utilizes wireless, friction-free GPS technology to test and log measurements of on- and off-road vehicles. It calculates speed and direction continuously at 20 Hz rate by monitoring Doppler shift of received GPS signals as vehicle is in motion. Speed is measured with 0.1 km/h accuracy and distance is measured with 0.25 cm accuracy. During acceleration or braking, software continuously computes and logs speed, time, and coordinates.
---
Original Press Release:

Caesar Introduces GPS-Based Speed, Position Sensor for Wireless, Friction-Free On/Off Road Vehicle Testing


Farmington Hills, Mich., June 11 - CAESAR DataSystems has introduced a new "in-use" type automotive testing and logging device that uses Global Positioning Satellite (GPS) technology to communicate the driving performance data of automobiles, trucks and off-highway equipment.

The device, called the QIC-Speed Sensor, provides speed and position monitoring and measurement in both on- and off-road vehicle testing.

Previous methods of attaching a fifth wheel sensor or fixturing a sonic or laser device are made obsolete by the wireless, friction-free GPS-communicating QIC Speed Sensor.

QIC calculates speed and direction continuously at a 20 Hz rate by monitoring the Doppler shift of the received GPS signals as the vehicle is in motion. Speed is measured with an accuracy of 0.1 km/h and distance to within 0.25 cm.

Installation is quick and convenient. The GPS antenna with its magnetic mount is position on the vehicle and connected to the QIC Speed module. The module is connected to a laptop computer. All settings are automatically synchronized when the laptop is powered up, and logging of speed and position begins immediately.

Foul weather and harsh conditions have no effect; ice, snow and rain do not alter performance as they often do with other types of sensors.

During acceleration or braking, the QIC's software continuously computes and logs speed, time and co-ordinates. QIC is equipped with an event input that records braking activity or passing of light barriers.

CAESAR DataSystems is based in Munich; its North American headquarters are in Farmington Hills, Mich.

CAESAR DataSystems was founded in Munich in 1986 by a group of four engineers experienced in the field of data acquisition and analysis technology. The company today is a leading supplier of measurement systems for mobile vehicle testing.

June 11, 2003
Contact: Doug Drummond/NES
Dave Miller/RST
Dan Heikkinen/CAESAR

RS Technologies/CAESAR
24350 Indoplex Circle
Farmington Hills, MI 48335
248-888-8260
248-888-8266 fax
www.rstechltd.com
caesar.us

More from Plant Furnishings & Accessories