Gorilla® Ankle Fracture Plating System offers surgeons 44 total plates.
Press Release Summary: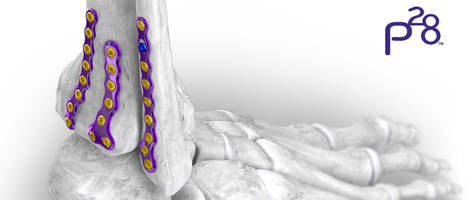 Gorilla® Ankle Fracture Plating System is offered in four variants such as posterolateral fibula, posterolateral tibia, posteromedial tibia plate and trimalleolar fracture plates. Posterolateral fibula plate comes with distal screw configuration and is narrower in design. Posterolateral tibia plate features two distal screw holes. Posteromedial tibia plate is designed for posterior pilon variant fracture. Trimalleolar fracture plate is suitable for posterior malleolar fracture.
---
Original Press Release:
Paragon 28® Increases its Robust Ankle Fracture Offering - Gorilla® Ankle Fracture Plating System - Posterior Plating System Launched
Since its inception, Paragon 28 has obsessed over every aspect of foot and ankle surgery. Committed to creating tailored solutions to improve surgical outcomes, Paragon 28 has launched innovative products and instrumentation that help to streamline procedures, allow surgeons flexibility in technique and approach and facilitate reproducible results benefitting both the surgeon and patient.
The addition of Posterior Plates to the Gorilla® Ankle Fracture Plating System further expands Paragon 28's robust foot and ankle specific portfolio. The Gorilla® Ankle Fracture Plating System now offers surgeons 44 total plates in seven families to address distal fractures of the fibula and tibia. The Posterior Plates are offered across four families and provide surgeons 20 unique options to address fractures of the tibia and fibula from a posterior approach.
Paragon 28 Gorilla® Ankle Plating System – Posterior Plates
Posterolateral Fibula Plate
Narrower in design than the anatomic and straight fibular plates to allow for better fit when placed on the posterior and posterolateral surfaces of the fibula
Distal screw configuration is oriented to avoid anatomic structures when used with a lateral or posterior incision
Can also be used as an anti-glide plate in order to buttress the distal fragment from shifting proximally
Posterolateral Tibia Plate
Contoured to match the anatomy of the posterior tibia
The two most distal screw holes are angled superiorly to avoid the concave surface of the tibia
Lateral plate placement helps avoid Flexor Hallucis Longus (FHL) tendon
Posteromedial Tibia Plate
Designed for a posterior pilon variant fracture
Contoured to match the anatomy of the posterior tibia
Trimalleolar Fracture Plate
Designed for the posterior malleolar fracture of a trimalleolar fracture
Plate has a slight concavity to minimize the need for interoperative bending to match the posterior tibia
Plate is designed to prevent superior translation of the fracture fragment, as an anti-glide concept
Paragon 28 is grateful for the significant contributions Dr. Christopher Zingas, MD, Dr. John Kwon, MD and Dr. Michael Houghton, MD made as the surgeon designers of this system.
Product Page: http://www.paragon28.com/products/ankle-fracture-plating-system/
More from Software