Gold Coating Now Available in Matte or Bright Finish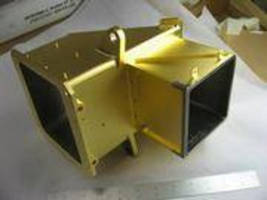 Epner Technology is a high-tech engineering and specification plating company. It's Laser Gold infrared reflective coating is world renowned and has been the NIST standard for some 20 years. Plating difficult metal substrates such as molybdenum, titanium and beryllium, and the plating of the engineering plastics such as Ultem, Teflon Torlon and Ryton are a specialty of this hundred-year-old plating specialist. Announcing a gold plating capability that allows for a finishing range anywhere from matte to bright leaving a surface that can actually be physically cleaned.

Now offering a gold coating to MIL-G-45204C, AMS-2422 & 2425, ASTM-B-488 specs. Gold plating with matte, bright or polished finish demonstrates good corrosion resistance, has high tarnish resistance and provides a low, electrical contact resistance. It also acts as a good conductor. Gold has a high reflectance capability for infrared light and in the form of Laser Gold, which exhibits the highest IR reflectivity done by any electroplating process.

Of course, the more typical substrates such as aluminum, stainless steel and brass are also plated to the Gold plating specifications. Besides gold, Epner specializes in deposits of electroless nickel, electro- deposited nickel, copper, silver, tin, tin lead, rhodium, and platinum. All are plated to the applicable MIL, ASTM, or Prime Contractor specifications.

Epner's turnkey manufacturing services provides both the fabrication and plating, offering one-stop shopping to their primary markets consisting of aerospace and defense, infrared optics, computer, automotive, electronics as well as emerging high-tech industrial firms.
This is a plating company that actually does what the drawing calls out.

Call David Epner today for Engineering support and Technical assistance for all your coating or plating application requirements. Visit our website at www.epner.com or call toll free 1-800-823-7637 for the most knowledgeable advice in the metals finishing industry.


More from Controls & Controllers