Glovebox provides high level of containment.
Press Release Summary: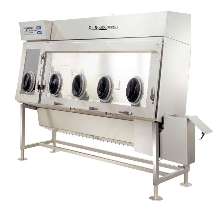 IsoGARD® Series Class III glovebox, designed for research involving agents assigned to BSL-3 or -4 facilities, features plug-and-seal, canister-style HEPA exhaust filters. Supply HEPA filter, protected with 316L stainless steel diffuser, covers entire ceiling of primary working chamber. Offered in 3 models with 2-, 3-, and 4-glove primary working chambers, product has front-opening, glass-panel door and stainless steel gloveports with single-piece, sleeve-and-glove assembly.
---
Original Press Release:

The Baker Company Introduces IsoGARD® Class III Glovebox


SANFORD, Maine - The Baker Company has introduced the IsoGARD® series Class III glovebox designed for research involving agents assigned to (BSL-3 or -4) facilities, or where a high level of containment is required. The cabinets are well-suited for aerosolization studies, vaccine research, infectious disease diagnostics and research, handling of sterile potent pharmaceutical compounds and inspection of suspected terrorism samples (chemical and biological).

IsoGARD® features include:

o Built to the highest leak-tightness specifications to ensure the safety of laboratory workers.
o "Plug-and-seal" canister-style HEPA exhaust filters provide environmental protection and allow for safe and convenient changing of loaded filters.
o Supply HEPA filter, protected with 316L stainless steel diffuser, covers the entire ceiling of the primary working chamber to provide product protection.
o Designed in three standard models that offer two-, three- and four-glove primary working chambers. Stainless steel gloveports with single-piece sleeve-and-glove assembly.
o Includes an integral, full-size HEPA-filtered pass-thru chamber with a unique front-opening glass panel door that allows users to introduce samples into the main working chamber with ease.
o Viewscreen sloped 10° for the most comfortable head and elbow position.
o Digital pressure gauges, equipped with audible and visual alarms, monitor proper operating conditions.
o Fits through standard doorways without disassembly, making installation simple.

To learn more about the IsoGARD® Class III glovebox, visit www.bakerco.com or call The Baker Company at (800) 992-2537.

The Baker Company, a world leader in the design and manufacture of biological safety cabinets, clean benches, fume hoods, powder weighing stations, animal research products and gloveboxes, has been building containment and clean air equipment to protect personnel, animals, product and the environment for more than 50 years. Company products are designed for life science, pharmaceutical, industrial and hospital/clinical applications worldwide.

o For questions about the IsoGARD® Class III glovebox, e-mail bakerco@bakerco.com

More from Electrical Equipment & Systems