Global Leader in Advanced Materials Improves Quality and Cuts Costs with a Digital Microscopy System from Keyence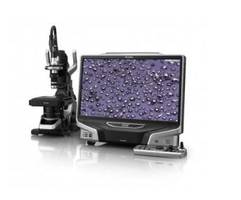 - VHX-5000 digital microscope
Imagine sorting through individual grains of sand on a beach, or searching for the largest bits of powder in a bag of flour; without an easy way to do so, your days would be long indeed. But that tedious job is similar to what lab technician Ricky Sapp once faced each workday, manually inspecting metal welding powders and the sieves used to sort them. That was before his employer, Indiana-based Kennametal Stellite Co., invested in a VHX-5000 Digital Microscope from Keyence Corp.
Joining Forces
Metals have been heated and hammered together for millennia, but it wasn't until the widespread availability of electrical power that welding became an indispensable fabrication method, used to raise tall buildings, construct ships, and permanently join a wide variety of mechanical components.
But welding is good for far more than bridge building and attaching hitches to snowmobile trailers. It's also used to make metal surfaces tougher, harder, and in some cases both. Hardfacing is the application of specialty weld metals to wear and bearing surfaces, and is used across a broad array of industries. Tractor makers hardface drive sprockets and shovel rollers. Turbine manufacturers use it to strengthen blades and valve seats. Steel mills rely on hardfaced components to crush rock and pulverize metals.
Much of the material used for hardfacing operations is a cobalt-chromium metal known as Stellite, which as you may have guessed from the name, is manufactured by Kennametal Stellite. Together with other hardfacing alloys and nickel-based metals, Stellite is used in the oil and gas, food processing, dental, aerospace, and any industry requiring super tough, heat and corrosion resistant materials.
Sorting Stellite
Ricky Sapp has worked at the Goshen facility a little more than 24 years. He conducts a variety of physical measurements on the metal powders, weld rods, electrodes, and other materials used in hardfacing. He also inspects the welds made with these materials, most of which Sapp does himself. Compared to the rod used with most industrial welding processes, Kennametal Stellite's hardfacing rod is "cored" with cobalt or nickel-based powder, which melts during welding and helps provide the strength and hardness expected of hardfaced metals.
Prior to the purchase of the Keyence VHX-5000 Digital Microscope, Sapp relied on a traditional optical microscope to perform measurements. One recurring thorn in his side was calibration of the sieves used to separate metal powders into different grain sizes, a task that once required "hours and hours the old way" but now can be done far more quickly.
There are several reasons for this. For starters, the VHX-5000 eliminates the need for focus adjustments, greatly speeding up measurements. With the push of a button, an optimized view of the target is produced in as little as one second. It has a depth-of-field 20 times greater than traditional microscopes, with high-resolution optics and software that captures and optimizes images automatically. There are also numerous functions such as wide area stitching, 3D depth-of-field display and measurement, edge detection, and more. This makes the VHX-5000 a simple-to-use, but also powerful measurement tool for a variety of applications.
"It used to take around 40 minutes to calibrate a sieve," he says. "With 24 different sieves, that meant several days of work. But with the VHX-5000, I can finish a sieve in 10 minutes. It's a huge timesaver."
Sapp also inspects the powder itself, and says the new system provides far greater capabilities than what was available to him previously. "If there's anything questionable we can get a really good look at it now, and do measurements we weren't really able to do before. The VHX-5000 has definitely paid for itself as far as I'm concerned."
Process Improvement
It's also opened doors to unexpected product improvements. "We have furnaces here for making weld rod, and they have these little ceramic extrusion dies inside," Sapp explains. "With the Keyence microscope I was able to take a picture of one and make a 3D image. It helped us visualize what's actually happening as the product is being made. That in turn gave us some ideas on how to modify the nozzle shape and improve its longevity, allowing us to make more - and better - product for each set of dies. It's made a night and day difference. That's another thing we couldn't do before."
Sapp is the primary user of the VHX-5000, although he's trained others on its use. He says it's very easy to learn, but when he does have a question, help is a phone call or email away. His only complaint is that he wishes he had more time to spend with some of the device's advanced features, such as metallurgical analyses, and would like to purchase a higher magnification lens at some point for an even closer view of the metal powders he works with (Sapp is currently using the 20-200X, although up to 5000X is possible). At some point he might add a borescope to the system, to provide an even closer view of the extrusion dies, just one of the many options that allows the VHX-5000 to grow with a customer's changing needs.
"The clarity of the photos is excellent," he says. "You just push a button and the VHX-5000 takes multiple images using different colors and lighting levels. You don't have to spend a bunch of time adjusting things to get the best picture. That makes it easy to share photos with our customers, and also helps us internally with making process adjustments. The auto focus is wonderful as well. You hit one button and it zooms in for you, so you can see what you're wanting to see. It's amazing. I honestly don't know how I did my work without it. But I do know one thing: I'm not going back."
More from Chemicals & Gases