Glass Substrate Parabolic Mirrors provide off-axis focus.
Press Release Summary: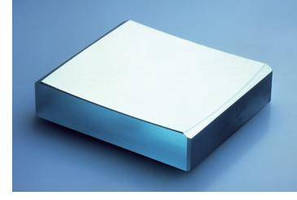 Suited for UV and visible-spectra applications, High Performance Off-Axis Parabolic Mirrors are available in sizes ranging from 40-65 mm
2
. Units come with parent focal lengths of 125, 200, or 275 mm with y-offsets ranging from 53-85 mm. Fabricated from soda-lime glass substrate and with aspheric optical profile holographically recorded on substrate, they offer either ½ l or ¼ l surface accuracy. Parent focal length tolerance is ±0.15 mm and y-offset tolerance is ±2 mm.
---
Original Press Release:

High-Performance Parabolic Mirrors Provide Off-Axis Focus



March 25, 2009, Barrington, NJ. - Edmund Optics (EO), the premier provider of optical components, today announced the availability of glass-substrate parabolic mirrors with off-axis focus for UV and visible-spectra applications. Unlike conventional parabolic mirrors, these direct and focus collimated incident light at a fixed angle, providing full access to the focal point without blocking any of the incident beam. This simplifies optical design and improves light-gathering in designs such as Czerny-Turner and Littrow spectrometer configurations as well as general collimator and beam expander setups.

EO's High Performance Off-Axis Parabolic Mirrors are fabricated from a soda-lime glass substrate and have their aspheric optical profile holographically recorded on the substrate. The rectangular mirrors offer either a ½ l or a ¼ l surface accuracy and are replicated from masters that have passed strict inspection criteria, including zonal interferrometric and Foucault testing.

The focal point location for off-axis mirrors can be characterized by the parent focal length and the y-offset - the dimensions along and at right angles to the incident beam axis. EO's mirrors are available with parent focal lengths of 125, 200, or 275 mm with y-offsets ranging from 53 to 85 mm. This leaves a clear aperture of 90% for superior light-gathering capacity. Parent focal length tolerance is ±0.15 mm and y-offset tolerance is ±2mm.

Price and Availability

EO's High Performance Off-Axis Parabolic Mirrors are available in sizes ranging from 40mm square to 65 mm square. Prices start at $895. Please contact sales@edmundoptics.com for quantity pricing.

About EO:

Edmund Optics® (EO) is a leading producer of optics, imaging, and photonics technology. Supporting the R&D, electronics, semiconductor, pharmaceutical, biomedical, and military markets around the globe; EO products are used in a variety of applications ranging from DNA sequencing to retinal eye scanning to high-speed factory automation. EO's state of the art manufacturing capabilities combined with its global distribution network has earned it the position of the world's largest supplier of off-the-shelf optical components. Customers can purchase items by contacting EO at 1-800-363-1992, via the catalog, or via the website at www.edmundoptics.com.

Company Contact:

Marisa Edmund

Vice President, Marketing

Edmund Optics, Inc.

101 East Gloucester Pike

Barrington, NJ 08007 U.S.A.

Phone: 1-800-363-1992

Fax: 1-856-573-6295

email: medmund@edmundoptics.com

More from Electronic Components & Devices