Gigabit Ethernet Switches target SMB networks.
Press Release Summary: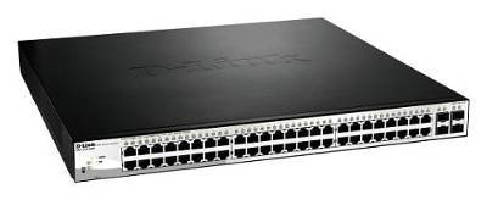 With Power-over Ethernet capabilities, Web Smart DGS-1210-52MP provides 48 Gigabit ports and 4 Gigabit SFP ports for fiber connectivity. Overall PoE budget is 370 W, making it suitable for high-density IP surveillance or IP Voice networks. For smaller non-PoE applications, Web Smart DGS-1210-10 provides 8 Gigabit ports and 2 Gigabit SFP ports, extending network connections to areas with less demanding port requirements. Both offer advanced security features and extensive Layer 2 switching options.
---
Original Press Release:

D-Link Announces Two New Web Smart Gigabit Switches



D-Link's Latest Offerings Expand Popular DGS-1210 Family



FOUNTAIN VALLEY, Calif. -- D-Link today announced it has expanded its Web Smart line of cost-effective Gigabit Ethernet smart switches with two new models, the 52-port DGS-1210-52MP and the 10-port DGS-1210-10. Both models offer all the same essential features found in other DGS-1210 series switches, including energy savings, advanced security features and extensive Layer 2 switching options. These D-Link(®) Web Smart switches are designed for simple management, making them an ideal solution for small-to-medium-sized business networks carrying any combination of voice, video and data traffic.



With its Power-over-Ethernet capabilities (PoE), the DGS-1210-52MP supports 48 Gigabit ports and an overall PoE budget of 370 watts, making it ideal for high density IP Surveillance or IP Voice networks. The first eight ports comply with the IEEE 802.3at PoE+ standard (up to 30W), while the remaining ports support IEEE 802.3af (up to 15.4W). In addition, the DGS-1210-52MP brings four Gigabit SFP ports for fiber connectivity.



"The DGS-1210-52MP represents our highest density Web Smart PoE switch," said Steven Olen, director of product marketing, D-Link Systems, Inc. "Rack-mountable and only 1RU high, it can power up to 48 PoE and PoE+ devices - including power hungry devices like 802.11ac access points and outdoor IP cameras with heaters and blowers."



For smaller non-PoE applications, D-Link added the DGS-1210-10 to its portfolio. With eight Gigabit ports and two Gigabit SFP ports, the DGS-1210-10 is an ideal, cost-effective solution for securely extending network connections to areas with less demanding port requirements. The two additional SFP ports also provide additional flexibility, allowing longer fiber runs in larger building and MDUs.



Administrators have multiple choices for managing their DGS-1210 series Web Smart switches, including an intuitive Web based graphical user interface, SNMP, simplified CLI through Telnet, or D-Link's Network Assistant Utility. The Web based management interface also provides administrators with a convenient way to monitor and control PoE functions, including displaying real-time PoE power usage, setting PoE time profiles and remotely rebooting IP cameras or access points from anywhere on the network, including over the Internet.



Additional benefits include: 



--  Auto Surveillance VLAN: Ensures real-time video quality for monitoring and control without compromising the transmission of conventional network data

--  Bandwidth Control: Network administrators can reserve bandwidth for important functions that require more bandwidth

--  Advanced Security Features:  Network Administrators can keep unwanted users off the network with tools including Access Control Lists, Smart Binding (IP-MAC-Port binding) and DHCP Server Screening

--  IPv6 Management:  Allows seamless migration from IPv4 to IPv6 services without further hardware upgrade

--  D-Link Network Assistant Utility: Allows administrators to discover multiple D-Link Smart Switches within the same L2 network segment, making initial setup of the Smart Switches quick and easy

--  Limited Lifetime Warranty: The DGS-1210-52MP and DGS-1210-10 carry a Limited Lifetime Warranty, furthering D-Link's commitment to product quality and long-term customer confidence



Availability

The DGS-1210-52MP and the DGS-1210-10 will begin shipping late February, 2015. The list price of the DGS-1210-52MP is $1,099.99, while the list price of the DGS-1210-10 is $149.99.  Both models will be available throughout D-Link's vast network of channel partners, including value-added resellers, distributors and online retailers. Detailed specifications are available online at D-Link's website.



About D-Link

D-Link is the global leader in connectivity for home, small business, mid- to large-sized enterprise environments, and service providers. An award-winning designer, developer, and manufacturer, D-Link implements and supports unified network solutions that integrate capabilities in switching, wireless, broadband, storage, IP Surveillance, and cloud-based network management. For more information visit us.dlink.com, or connect with D-Link on LinkedIn (http://www.linkedin.com/company/d-link) and Spiceworks (http://community.spiceworks.com/networking/d-link).



D-Link and the D-Link logo are trademarks or registered trademarks of D-Link Corporation or its subsidiaries. All other third-party marks mentioned herein may be trademarks of their respective owners. Copyright © 2015 D-Link. All Rights Reserved



CONTACT:

Daniel Kelley

D-Link Systems, Inc.

714.885.6235

dan.kelley@dlink.com



Web Site: http://us.dlink.com

More from Electronic Components & Devices