Gigabit Ethernet Switch Card is available in PCI-104 format.
Press Release Summary: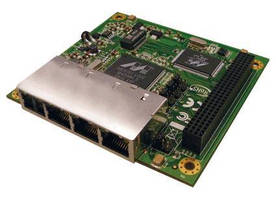 With 1.5 kV Hi-pot isolation protection and overload current/voltage protection, 4-port gigabit Ethernet Switch Card, JetCard 2154G provides higher bandwidth data transmission to IPC devices. Gigabit ports allow IPC to function as industrial Ethernet switch without additional Ethernet device. Product supports -25 to 70°C operating temperature, and can equip IPC devices with various Ethernet management features, including QoS.
---
Original Press Release:

JetCard 2154G Embedded Gigabit PCI-104 Switch Card --- Excellent Solution for High Bandwidth Network Construction!



Korenix is pleased to release new JetCard 2154G -the flexible and high performance 4-port gigabit Ethernet Switch Card in PCI-104 format for providing higher bandwidth data transmission to IPC devices. The JetCard 2154G is equipped with easy-to-install drivers, which allows users to easily set up spe cific complex systems. With 1.5KV Hi-pot isolation protection and overload current/voltage protection, JetCard 2154G becomes a reliable and cost-effective embedded networking solution - perfect for severe industrial environments.

Key features of JetCard 2154G are:

4 gigabit ports RJ45 Ethernet Switch

Four gigabit ports of JetCard 2154G allows IPC to function as an Industrial Ethernet Switch without the need of additional Ethernet device. This greatly reduces installation and maintenance costs.

Reliable detection and connection with Auto MDI/MDI-X JetCard 2154G automatically determines whether or not it needs to interchange cable sense between pairs, so that the external crossover cable is not required. If the JetCard interoperates with a device that cannot automatically correct for crossover, the device makes the necessary adjustment prior to commencing auto-negotiation.

Advanced management features

JetCard 2154G is capable of equipping IPC devices with various Ethernet management features, including QoS for ensuring high-quality performance in critical applications and flow control for zero packet loss under temporary traffic congestion. Moreover, when stacked in JetBox 9500 series main board, it brings even more advanced management functions to IPC providers, including port trunk, VLAN, PoE scheduling for network reliability and bandwidth aggregation.

Wide operating temperature

In addition to 1.5KV Hi-pot isolation protection, JetCard 2154G supports -25~70°C wide operating temperature for providing stable and efficient communication under harsh environmental conditions.

All these advanced features including the high-bandwidth, high-speed and high-quality serial communication interfaces enhance the networking capabilities of IPC providers and ensure a reliable data transmission in extreme industrial conditions.

Korenix Technology

korenix.com;
www.korenixembedded.com

+886-2-8911-1000

sales@korenix.com

Contact Name: Armine Beybutyan

E-mail: armine@korenix.com

More from Services