Gel Sheets control and dissipation heat in electronics.
Press Release Summary: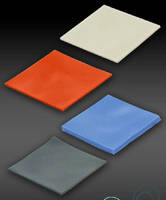 Available in 400 x 400 x 0.5-3 mm sizes, silicone thermal gel sheets are suited for use as electrical insulators and may be used over -40 to +392°F range. Soft sheets are RoHS-controlled substance and flame retardant UL-94 V-0 approved. There are 5 gel sheets identified as V30Z62MCHxxx Series types, which are designed with heat conducting properties. Thermal conductivity ranges from 1.8-6.5 W/mok. Products contain nothing harmful and can be considered environmentally friendly.
---
Original Press Release:

New Sheet Type Silicone Thermal Gel Sheets from AAC Feature Excellent Control & Dissipation of Heat in Electronic Component Applications



(New Hyde Park, NY; August 24, 2009) -- New sheet type silicone thermal gel sheets from Advanced Antivibration Components (AAC) feature excellent control and dissipation of heat in electronic components. Applications include computer internal components such as CPU, motherboards, power transformers, power supply equipment, and electronic parts such as semiconductors that produce heat. These soft gel sheets are sold in a 400 x 400 mm (15.7 x 15.7 in.) size and are .0.5 mm to 3 mm thick to make for easy and even application. They are a RoHS controlled substance and are usable over a wide temperature range: -40°C to +200°C (-40°F to +392°F). This makes them good electrical insulators and flame retardant UL-94 V-0 approved.

There are 5 gel sheets identified as the V30Z62MCH... Series types which are designed with heat conducting properties. Their thermal conductivity ranges between 1.8 and 6.5 W/m o k. They contain nothing harmful and are therefore considered environment-friendly. At the AAC eStore you can check price and availability, place an online order, download 3-D models, or request a quote at any time.

Additional technical specifications are contained in Catalog V110, available free upon request from Advanced Antivibration Components (AAC), 2101 Jericho Turnpike, Box 5416, New Hyde Park, New York, USA 11042-5416. Phone: 516-328-3662, Fax: 516-328-3365,
Web: http://vibrationmounts.com/NewProducts/Gel_Sheets.htm

More from Test & Measurement