Gearwrench Releases Electronic Torque Wrenches for Vehicle Manufacturing
Press Release Summary: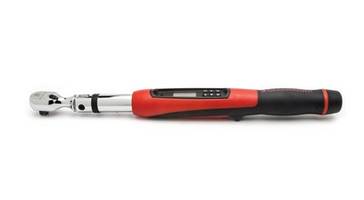 The Electronic Torque Wrench is designed to have the bolt close to the point of stretching during the initial torque setting. The wrench features a 3/8 inch and ½ inch drive, three modes of operation, 2 percent torque accuracy, and 72-tooth gear with a 5-degree ratcheting arc.
---
Original Press Release:
GEARWRENCH® Electronic Torque Wrenches with Angle Provide Precision to Auto Techs
SPARKS, Md., Oct. 29, 2018 /PRNewswire/ -- More and more frequently, torque-to-yield bolts are being used in vehicle manufacturing. To help automotive techs handle those jobs with precision and confidence, Apex Tool Group is introducing its new GEARWRENCH® Electronic Torque Wrench with Angle.   
Torque-to-yield bolts need to be torqued to a specified setting and then are rotated to a certain number of degrees to ensure the correct amount of torque is applied. With the new Electronic Torque Wrench with Angle, the initial torque setting gets the bolt close to the point when it will start to stretch. Then, applying the additional angle rotation stretches the bolt a predetermined amount to where it will provide the correct clamping pressure.
"Without a torque wrench with angle, the Technician might 'eyeball it,' use paint markings on the head bolts or use a torque wrench and angle gauge," said product manager Jim Stewart. "Our new Electronic Torque Wrenches with Angle allow technicians to do standard torque jobs and also jobs requiring angle using one tool. They're accurate, quick to set up, provide repeatability and are easy to use."
The new GEARWRENCH Electronic Torque Wrench with Angle is available for 3/8-inch and 1/2-inch drives. It features three modes of operation: Peak Torque, Angle, and Peak Angle. Torque accuracy is 2% clockwise, and 3% counterclockwise in the 20-100% range. The 72-tooth gear provides a 5-degree ratcheting arc. An audible tone goes off as the Target Torque value is approached, and when the target torque is reached, the handle vibrates, a beep tone sounds and the screen display changes color—all to help ensure accuracy.
For more information, go to www.gearwrench.com.
About GEARWRENCH®
GEARWRENCH is a professional hand tool brand from Apex Tool Group, one of the largest hand tool manufacturers in the world. The product line includes wrenches, ratchets, sockets, pliers, impact products, tool storage, torque wrenches and more. The brand serves professional tool users, primarily in automotive and industrial markets, including MRO, construction, mining, energy, transportation and utilities. Visit www.gearwrench.com.
About Apex Tool Group
Apex Tool Group, LLC, headquartered in Sparks, Maryland, is one of the largest worldwide producers of industrial hand and power tools, tool storage, drill chucks, chain and electronic soldering products. Apex serves a multitude of global markets, including automotive, aerospace, electronics, energy, hardware, industrial, and consumer retail. Visit www.apextoolgroup.com.
SOURCE Apex Tool Group
More from Packaging Products & Equipment