Gauge Interface Kit can track hundreds of parts.
Press Release Summary: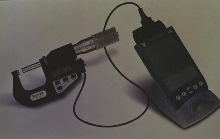 No. 794 DataGet® Software and Gage Interface Kit consists of custom Starrett 2-port adapter with 3 ft cable, DataGet® Software and a leather pouch with belt clip. It utilizes Microsoft Excel(TM) and Handspring(TM) Visor palm-operated devices (PDAs). Its 2-port adapter slides into users' Handspring PDA slot, and its cable connects to electronic gauges. Machinists can display run charts on PDAs that show trends, target values and spec limits.
---
Original Press Release:

New Data Collection Solution Is Easy, Convenient And Affordable


ATHOL, MASSACHUSETTS, October 22, 2001. The L. S. Starrett Company has just introduced a simple, compact, portable and cost-effective way for machinists and inspectors to collect measurement data for statistical process control (SPC).

Called the No. 794 DataGet® Software and Gage Interface Kit, it consists of a custom Starrett two-port adapter with a 3' (92cm) cable, DataGet® Software and a leather pouch with belt clip.

The 794 makes effective use of two of today's preferred data tools - the versatile and powerful Microsoft Excel(TM) and the compact Handspring(TM) Visor palm-operated device, commonly known as a "PDA".

The specially designed, 2-port adapter simply slides into the slot on top of the user's Handspring PDA and the 3' cable connects to Starrett Electronic Gages. This permits easy user access and also makes it less susceptible to being disconnected, especially when the unit is pouched on their hip while they are doing roving inspection.

The 794 Software Package, DataGet®, allows the user to attain a wide range of data. For example, a machinist can display a run chart on their PDA that shows trends, target values, and spec limits, in addition to tracking hundreds of parts.

Other data types include identifiers and variables. Identifiers include features such as tag data which is great for tracking lot numbers or employee ID's. Variables also include a SmartAxis scale that converts between units on the same chart while maintaining key data in the screen, an on-screen keypad to speed editing, an out-of-spec alarm and the ability to calculate statistics; mean, standard deviation, min, max and more.

Users may also tie into an optional Starrett Software program called 771 SPC IV Excel, thereby creating an enhanced, Excel-based SPC system. In the example where the Handspring PDA is "HotSync®-ed" to a computer, charts can be produced from data in columns.

More from Software